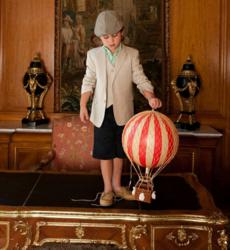 Salt Lake City, UT (PRWEB) November 15, 2011
The Grand America Hotel, a landmark in Salt Lake City, will officially open the doors to "JouJou," its long-awaited toy boutique, on Friday, November 25, 2011. As the newest addition to "The Shops at the Grand," JouJou inspires imagination through play with unique toys and games within innovative experiential play centers.
JouJou, the French word for 'toy' was designed to offer top quality toys, games, books, and vintage-inspired candy. With a colorful, cleverly crafted, engaging play space, JouJou is unrivaled by any other toy store in the region. JouJou appeals to the child in all of us.
"We originally wanted to create a store environment for children of all ages to unleash their imaginations and to find toys and games that inspire the creativity that resides in us all," said Bruce T. Fery, Executive Vice President of Grand America Hotels and Resorts. "JouJou ended up inspiring us. It's an extraordinary place."
The concept behind JouJou has a modern slant but is crafted in a classic setting. "The design team did extensive research and combined elements from a variety of Parisian toy stores and classic toys," explained Brent Watts, Executive Creative Director at StruckAxiom, the creative agency who designed JouJou.
"The Grand is a generational hotel where visitors of all ages can enjoy the many features the hotel offers," commented Mr. Fery. "JouJou is the spot where children and adults can find enjoyment – it's the connective story between the generations."
JouJou's Extraordinary Elements:
Magical Honey Tree. Capture your very own whimsical fairy from flight around the large tree sculpture.
Monsterpiece Theatre. A wall of ten friendly, computer-generated monster portraits actually interact with the guests.
Enchanted Forest. See an original 7-foot tall Dragon seem to take flight in the store.
Robot Republic. Stand beneath an 8-foot tall robot while you customize your own robot and watch it come to life.
JouJou Library. Offers a variety of artful and imaginative children's books and vintage novels, surrounded by a unique Paper Fountain that showers the guest.
Wings of Flight. Twelve originally crafted antique balloons from Germany and France float throughout the JouJou store.
Candy Organ. Pick your favorite scrumptious candy as you dance to the tunes by walking on a lighted interactive floor.
Auto Alley. Find your favorite special-edition model car and toys.
Princess Proper. Play dress up and select European princess costumes, figurines and dolls underneath a towering 6-foot high castle sculpture.
GameLore. Experience a variety of classic special-edition, re-issued vintage games and current unique products of play.
Animal Island. Find stuffed animals from all generations and locations nestled on our custom island.
Grand Opening
The community is invited to come to The Grand America Hotel for the Grand Opening of JouJou on Friday, November 25th at 10 a.m. The same day, visitors can also enjoy The Grand's annual holiday window display stroll, which continues throughout the holiday season
About The Grand America
Inspired by grand hotels of the past, The Grand America Hotel offers a refined European style against the stunning backdrop of the Wasatch Mountains. The Utah landmark property features rich architectural details created by Ritz-Carlton designer Frank Nicholson, surrounded by beautifully landscaped parterre gardens. Guests enjoy the exclusive collection of Flemish tapestries, priceless antiques and works of art gracefully displayed throughout the Hotel. 775 spacious guest rooms, including 396 suites, provide luxurious accommodations within the opulent 24-story building. World-class dining options include the Garden Café and Lobby Lounge, the Gibson Lounge, La Bonne Vie patisserie, Afternoon Tea service, and a spectacular Sunday Brunch. Amenities include The Grand Spa, indoor and outdoor pools, business center, concierge service, and 75,000 square feet of meeting space. "The Shops at the Grand" feature designer labels at the Ladies Boutique, The Men's Haberdashery, and The Children's Shop. Children of all ages enjoy JouJou, the newest boutique, featuring experiential play activities, unique and handcrafted toys, and classic games and books. Located just 10 minutes away from Salt Lake International Airport, The Grand America is located in the heart of downtown Salt Lake City. The Grand America is Salt Lake City's only AAA Five Diamond hotel.
# # #