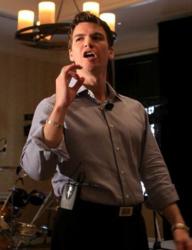 It was an honor to serve today's entrepreneurs.
San Diego, California (PRWEB) November 15, 2011
In a first for any US personal growth organization,RiZe Global's inaugural Business Breakthrough Immersion event took over the Marriott Marquis & Marina in San Diego, attracting well over 100 inspired entrepreneurs across the weekend who dove deep into RiZe Global's trademarked scientific breakthrough technology with Ted McGrath, RiZe Global's Founder and CEO.
Entry to the $997.00 event was made available for free to many of the BBI's participants. RiZe Global's community of entrepreneurs simply needed to make a donation to RiZe Global's charity partner for the event, Junior Achievement of San Diego & Imperial Counties, prior to attending to receive a free ticket.
The exclusive event, in support of Junior Achievement, included star-studded talks from two modern-day titans of inspired business, including Simon Mainwaring, New York Times Bestselling Author of We First, and Ted McGrath, #1 coach trainer in America and Founder of RiZe Global. Rising stars in the transformation, internet marketing and modern education industries also made appearances, including Alex Moscow, Trinity de Guzman and Zeal Caiden.
RiZe Global senior partner and marketing director Zeal Caiden says: "RiZe is leading inspired entrepreneurs in a movement of global transformation and the Business Breakthrough Immersion completely taps into our community's love of deep-dive personal transformation, their passion for connecting with other successful conscious entrepreneurs and our proven, inspired tactics for growing their businesses! Well over 100 entrepreneurs came from around the world to participate, each one breaking through major life and business challenges. RiZe Global's first ever Business Breakthrough Immersion has been an overwhelming success!"
The Business Breakthrough Immersion was promoted in RiZe Global's newsletter and online at http://www.businessbreakthroughimmersion.com - where inspired entrepreneurs could find out more details on the stars attending the event, event schedule and top inspired business practices shared by Ted McGrath.
RiZe Global is launching two new game-changing transformative events in 2012.
About RiZe Global
RiZe Global is committed to helping entrepreneurs create lasting change in their lives so they can better serve their communities. World-class guest speakers and the RiZe Global team are poised to provide a profound experience that will impact every area of attendees' lives at their upcoming live event - they guarantee it. Experience the opportunity to be your best self as you "RiZe" to a higher role, a higher purpose, and higher income.
RiZe Global is completely changing the game of business in this day and age by helping entrepreneurs turn their companies into causes, incorporating coach training with value communication strategies to create drastic improvements in skill set and income fast. They do this by using a scientific breakthrough technology that helps entrepreneurs unlock their full potential so they can discover their passion, live their passion and ultimately make money doing what they love while serving millions of people around the world. More info at http://www.rizeglobal.com.
About Junior Achievement
For over 90 years, Junior Achievement has provided quality financial education to millions of children around the world. They are currently in over 120 countries. Junior Achievement hundreds of thousands of students each year. They teach these students the key concepts of financial literacy, work readiness, and entrepreneurship which are crucial in today's economy. JA is educating the next generation on how to create a budget, stay out of debt and save for the future. JA is teaching the next generation how to enter the job market, interview for a job and the skills that are needed to retain a job. And finally, JA is teaching the next generation how an entrepreneur can bring about powerful economic change.
"We Support The H.O.M.E. Foundation"
About The H.O.M.E. Foundation:
The Helping Others Means Everything, or The H.O.M.E. Foundation, is a not-for-profit organization dedicated to helping our Family of Charities during these tough economic times through added incentives, luxury raffles and high profile celebrity events. Our mission is to help charities reach their fundraising goals and to bring awareness to their praiseworthy causes.
###