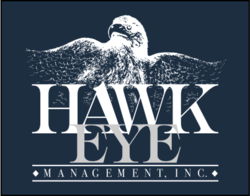 Reputation - Integrity - Quality - Commitment
Boca Raton, FL (PRWEB) November 16, 2011
A recognized leader in providing South Florida property management services, Hawk-Eye has increased its office operation and is continuing to search for the highest caliber of personnel to fill both management and maintenance positions in order to accommodate its' expanding business. "Additionally, sophisticated upgrades in both computer hardware and specifically designed association management software have been installed so that we can better serve our clients' needs while still maintaining the personalized attention that Hawk-Eye's homeowners expect and deserve" , states Paul Patti, CEO and founder of the company.
Considering today's weak economic atmosphere, we asked Mr. Patti to what he attributed the company's continued growth. He replied, "The challenging financial environment demands that property management companies find tailor-made solutions for each of their condominium and homeowner associations that will provide them with maximum services in the most cost-effective manner. Our highly trained and experienced staff dedicates themselves daily to ensuring the highest level of service to our clients which is why Hawk-Eye has enjoyed a 90% retention rate since the company was founded in 1979. In fact, it is our ability to attract the most qualified property management professionals to our company that has positioned us for continued growth and continued expansion of services."
Mr. Patti continued by explaining that an "executive led transition team" is assigned to all new communities joining the Hawk-Eye family. The transition team assists the assigned manager(s) and staff in assessing that property's specific needs and developing a customized and expense reducing package designed for that condominium or homeowner association.
To learn more about Hawk-Eye Management, Inc. and our Hawk-Eye Guarantee, please call Mr. Patti at (561) 392-1600 or visit our website at http://www.hawkeyemanagementinc.com
Media Contact:
Paul N. Patti
Hawk-Eye Management
Phone: 561-392-1600
# # #