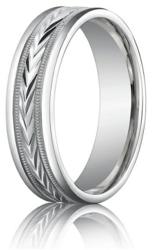 Mens-Wedding-Rings.com is pleased to announce an extraordinary new collection of designer platinum wedding bands from Benchmark, a company that has built its reputation over forty years and has truly become the "benchmark" against which other wedding ring
Jensen Beach, Fl (PRWEB) November 15, 2011
Since their launch just over one year ago, Mens-Wedding-Rings.com (MWR) has become one of the most talked about online stores in the world of men's jewelry, and they are already known among wedding planners as an excellent resource for wedding bands at affordable prices. One key reason for the dramatic success story of Mens-Wedding-Rings.com is their dedication to making sure their inventory reflects the styles and metals that customers want to buy. Owners Roy and Judy Devine are constantly looking for ways to enhance their selection of traditional and alternative wedding bands.
Mens-Wedding-Rings.com is pleased to announce an extraordinary new collection of designer platinum wedding bands from Benchmark, a company that has built its reputation over forty years and has truly become the "benchmark" against which other wedding ring designers are measured. The new collection includes a selection of rings that are carved, satin-finished, grooved and polished. It also includes Benchmark's popular "Harvest of Love" design, which incorporates carved arrows and milgrain edges around a rounded profile.
Studies have shown that over the past few years, almost half of all "big ticket" purchases were researched first online. While doing this, many engaged couples have discovered that it's much easier to shop for wedding rings on the Internet. They have also discovered that Mens-Wedding-Rings.com has the best selection, prices and customer service of any stores in this category. Buying a rare and beautiful platinum wedding band is a major investment and one where price is a concern. When compared to brick-and-mortar jewelry stores, MWR offers a much less expensive alternative.
When shopping for men's wedding rings, men prefer a retailer that has an impressive selection of rings at reasonable prices, but they also want to find a ring in their size. With large size rings up to size 20, MWR offers men a better chance of finding what they want in one place. In addition to their vast selection of alternative metals, MWR is known for their competitive prices on platinum and gold. This new collection of men's designer platinum rings from Benchmark adds another selling point – a comfort-fit design on the inside.
A brand new collection of men's designer platinum rings is just one reason that MWR is eagerly anticipating the upcoming holiday season. Since celebrating their first anniversary in September, Mens-Wedding-Rings.com has already added numerous new designer collections to their already impressive inventory. Now, in addition to their expansive collections of rings in gold, sterling silver, titanium, tungsten, cobalt, palladium and Argentium Silver, this new designer collection of Benchmark platinum wedding bands gives shoppers another reason to visit this site. An unbelievable selection and unbeatable prices have attracted many new customers to the MWR, but it is the customer service and the quality of their products that keeps them coming back.
About Mens-Wedding-Rings:
Mens-Wedding-Rings.com is a niche online jewelry store for men's wedding rings and bands. In this specialized retail environment, customers find the best quality men's traditional and alternative wedding rings. From major designer bands in traditional and alternative metals to non-designer rings in stainless steel, titanium, tungsten, sterling silver and cobalt, Mens-Wedding-Rings.com is a one-stop source for men's wedding bands and rings. Owners Roy and Judy Devine make it their goal to ensure their customers are completely satisfied, so they only sell high quality rings at excellent prices. All of their rings come with a 100% satisfaction guarantee, and their customers have come to expect the highest standards of service, selection and quality when they shop at Mens-Wedding-Rings.com. MWR offers the best selection of men's wedding rings on the Internet, many of which are available through size 20.
Contact information:
Roy & Judy Devine, Owners
Mens-Wedding-Rings.com
800.676.0363
http://www.mens-wedding-rings.com
Email: roy(at)mens-wedding-rings(dot)com
# # #