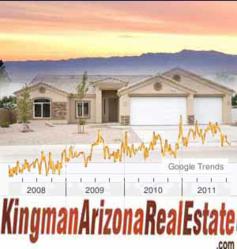 Kingman Arizona Real Estate Investor and Retiree Interest Gaining in Popularity
(PRWEB) November 15, 2011
Kingman real estate market trends are seeing an increase of online search and interest from out of state investors and retirees. Kingman Az is located just 100 miles form the #1 rated price-to-rent ratio city in America according to Trulia research, which is current the world famous Las Vegas, NV. Las Vegas homes for sale have been posting record sales for the last 3-months as the medium home price is currently $119,900. Those who are broading there search are discovering popular cities such as Kingman with medium priced homes currently at $83,500.
Justin Hollingsworth, a third generation Kingman real estate agent, says that Kingman has a long history as an alternative choice to the bigger metropolitan areas such as Las Vegas and Phoenix. The two common factors that draw buyers to Kingman homes is first the price and second affordable health care. Kingman not only has a lower cost of living index of the larger cities but the four hospitals and multiple medical facilities are able to match or exceed the capabilities of many urban hospitals.
Retirees relocating to Kingman Arizona for the affordable prices, and world class health-care are also discovering a second chance to rebuilt their retirement portfolio in Kingman AZ foreclosures. A recent survey by the Employee Benefit Research Institute indicated that one in three retirees had dipped deeper than planned into their savings to pay for basic expenses in 2011. Over the last five years most people who thought they had a stable retirement took huge loses in pension plans and stocks. Now they are looking to diversify and are turning into investors as they see Kingman AZ rentals as a way to generate a positive cash-flow.
Hollingworth identifies the biggest change over the last 3-years is that investors, foreign buyers and now retirees are getting back into buying rental properties. With the Las Vegas real estate market leading the way, Kingman is reaping the attetion as is Boulder City Nevada situated between both cities. Justin Hollingsworth of Hollingsworth Properties can be contacted at 1-928-279-2015. All Available Kingman AZ homes for sale to include condos, rentals and land can be veiwed and search online thru the free MLS search tools at http://www.KingmanArizonaRealEstate.com
###