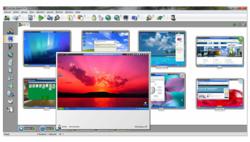 It is inconceivable for a teacher to work in a computer lab, library or classroom without a computer lab management program, such as SchoolVue.
Springfield, IL (PRWEB) November 15, 2011
CrossTec Corporation and The Williams Group are kicking off the Illinois Education & Technology Conference (IETC) today in Springfield, IL to show teachers, IT managers, and educational leaders how to implement some of the most advanced 21st century education technology solutions into their schools. Their display includes a SoftXpand 2011 virtual desktop configuration driving a variety of CAD and graphic design software, all managed and monitored with CrossTec SchoolVue classroom management software.
CrossTec SchoolVue is a classroom management solution that enables teachers to deliver top notch lessons to students in their 21st century classrooms. More than ever before, teachers, lab instructors, and corporate trainers can take control of classroom technology, giving them the ability to monitor student activity on the PC, control application and internet usage, instant messenger usage, device usage and more. Teachers can use features such as the "Show" mode for classroom demonstration or leverage the Testing Console to deliver custom, interactive, computer based tests that are graded automatically by the SchoolVue software.
"It is inconceivable for a teacher to work in a computer lab, library or classroom without a computer lab management program, such as SchoolVue. And although other programs are available, there is not a single one that matches SchoolVue for user-friendliness and reliability." – George Williams – Owner, The Williams Group.
Driving the hardware in the display is SoftXpand 2011, a MultiSeat desktop virtualization software tool that is capable of running multiple high performance independent workstations off of a single Windows 7, Windows XP, Windows Server 2003, or Windows Server 2008 R2 based PC. Each workstation consists of its own monitor, keyboard, and mouse – enabling organizations to reduce the number of PCs required to grant access to students or employees. SoftXpand is a software only solution that does not require a thin client, therefore delivering a low cost, high performance alternative to traditional computing which still allows the user full access to high level computing.
CrossTec Corporation's Marketing & Advertising Manager Michael Beverly will be presenting at the conference in Room Capitol IV at 2:15pm on November 15th. The presentation will include a demonstration of the SoftXpand 2011 MultiSeat Desktop Virtualization Software and CrossTec SchoolVue Classroom Management software.
The IETC is a two day conference running from November 15-16, 2011. If you would like more information or would like to register, please visit: http://il-edtech.org/
For more information about CrossTec SchoolVue, SoftXpand 2011, or for free evaluations or webinars, please visit http://www.CrossTecSoftware.com.
About SoftXpand:
SoftXpand is developed by MiniFrame Ltd. (http://www.miniframe.com) and distributed in North America by CrossTec Corporation.
About CrossTec Corporation:
CrossTec Corporation, headquartered in Boca Raton, FL, has been a leading provider of software solutions for schools since 1996, including the award winning CrossTec SchoolVue brand of classroom management software. CrossTec's mission is to empower IT departments and tech coordinators by offering a combination of education-tested products, substantial feature sets, superior value, and unparalleled customer service. For more information on CrossTec Corporation or the CrossTec family of products or to speak to a product representative, please call 800-675-0729.
About The Williams Group:
The Williams Group, located in Evergreen Park, Illinois, just south of Chicago, is close to major transportation highways, thus facilitating access to trade shows and educational conferences in Illinois, Missouri, and Wisconsin. The Williams Group has been a CrossTec partner since 2004.
George Williams, owner of The Williams Group, is an online professor at Chicago State University where he formerly directed the English Computer lab. He knows first-hand the value of CrossTec's software, SchoolVue and Secure.
###