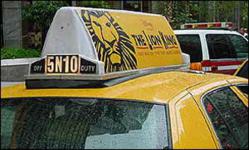 Taxi Media Drives Sales
Las Vegas, NV (PRWEB) November 16, 2011
Billboard Taxi Media, Inc. Provides digital color video hardware and network systems of all sizes and configurations worldwide for outdoor advertising used to generate long-term profit and investment returns on equity spent.
Out newest advertising digital display products are networked via hard-link or wireless to internet backbone to allow real-time updating of ad programs any time from anywhere in the world from any internet connection, thus maximizing efficiency, timeliness and revenue production.
Our goal is to enhance revenue collection of our client partners by providing state of the art revenue generating hardware and software systems that provide turnkey advertising program systems with real-time management, typically up to 2000 LCD displays or LED ad displays per server. Taxi Media and public outdoor media displays are available for easy setup. We offer LCD and LED screens in sizes from seven (7) inches to1.28 meter long.
Billboard Taxi Media, Inc. provides innovative solutions in advertising supplies to help media companies outsource their billboard taxi top LED display sign and billboard LED color display needs so that they can focus on their revenue stream rather than sourcing and logistics that the company takes care of for them as a matter of our everyday business.
Billboard Taxi Media, Inc. has new lowest prices on popular taxi tops models available for shipment within 29 days after 50% deposit up to 10000 units per order. Balance due just prior to items ship on pick up day by courier who will ship by ocean cargo. Our shipments will be insured, but client should take insurance as well. Customs duties are client responsibility and will be billed to client and will be payable directly by client. Visit http://www.taxitopmedia.com for details and photos.
The taxi tops are lighted and come with a free set of magnets for immediate free installation. All sales are final. No refunds. All products come with 6 month warranty for manufacturing defects repair or replacement. Products may also be returned within 10 days for replacement for any damage during shipment. Visit http://www.billboardtaximedia.com for full details.
Billboard Taxi Media, Inc. offers taxi tops advertisement LED lighted display signs for worldwide use in bulk quantities per order for delivery anywhere worldwide to your port of choice or door to door. Also sell large size Billboard LED Color Advertisement Display screens with remote advertising players. Lastly Billboard Taxi Media, Inc. offers a custom LCD or LED screen advertisement display system with hardware and software to remotely place and rotate clients ads on interior taxi LCD screens, buses or stores. We await your order.
###