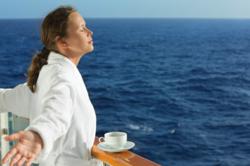 The best way to deal with seasickness is to actually prevent the symptoms.
Winchester, CA (PRWEB) November 23, 2011
The cruise industry is growing even in these trying economic times. The Florida-Caribbean Cruise Association forecasts 16 million individuals world wide will choose a cruise vacation in 2011, a 6.6% increase over last year. Many of these vacationers, especially those going on their first cruise, are concerned about the potential of experiencing seasickness. In fact, fear of getting this type of motion sickness is probably the number one reason that many vacationers who love to travel do not cruise. They know the nausea, stomach cramps and vomiting that characterize travel sickness will certainly put a damper on any cruise fun.
Thankfully, most people don't get sick on cruise ships. Big vessels don't move around nearly as much as small boats. But, it is smart to be prepared, according to CruiseSavvy.com, especially if you are sensitive to travel sickness on land or have not cruised before. One of the most effective ways to do this is with the Puma Method for Prevention of Motion Sickness exercises.
These exercises raise a person's tolerance to the movement aboard a ship as well as a variety of motion sickness producing activities, such as reading in a moving vehicle, riding in a small boat or flying in an airplane. The mild head, neck and upper body exercises stimulate the body's own mechanism, called habituation, to boost a person's tolerance to motion sickness causing activities. No drugs or devices are used, so there are never any negative side effects. The exercises take only about 15 minutes a day. Conditioning starts right away and in as little as one week a person can begin to enjoy activities that used to make them feel ill. This new level of conditioning is automatically maintained as the individual participates in these new activities. The Puma Method exercises do not need to be continued unless a higher level of conditioning is desired.
"The best way to deal with seasickness is to actually prevent the symptoms," states Dr. Sam Puma, president of Puma Applied Science and developer of the Puma Method. "To date the Puma Method has been just about 100% effective for those who follow the program so, why even worry about the possibility of becoming ill? Even a mild concern about seasickness can detract from the overall enjoyment of a cruise. Today's cruise ships offer a new generation of on board features and a world of innovations including surf pools, planetariums, demonstration kitchens, and on-deck LED movie screens. The Puma Method will allow vacationers to enjoy every aspect of their cruise experience."
Those interested in learning more about all types of travel sickness including seasickness, airsickness, carsickness, cybersickness and space sickness, and the Puma Method for Prevention of Motion Sickness can visit pumamethod.com.
Founded in 1995 by Dr. Sam C. Puma, Puma Applied Science is a privately held research and development company specializing in aerospace medical concerns, human factors, and life support systems. It was through Dr. Puma's 36 years of experience as a physician in the aerospace industry that he developed and perfected his method for the prevention of motion sickness.
The company introduced the Puma Method for Prevention of Motion Sickness in 2003. Other projects under development are a high acceleration aircraft to gather data on gravity-induced loss of consciousness and an associated sensor, and a hands free computer interface for persons with disabilities.
###