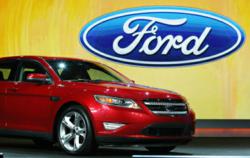 Jacksonville, FL (PRWEB) November 15, 2011
At Mike Davidson Ford in Jacksonville, FL the sales team and staff couldn't be more pleased with the inclusion of the '08 Ford Taurus on the Forbes 2011 Best Used Cars for the Money list. The Ford name for quality and reliability runs deep, and the people at this northern Florida dealership know it and acknowledge it with pride. The '08 Ford Taurus is a full-size sedan with a 263 horsepower V-6 and a 6-speed transmission that got top ranking from J.D. Powers and Associates for long-term reliability. And getting a used Ford Taurus in Jacksonville or a new Ford Taurus in Jacksonville can be just as simple as a phone call or a mouse click away these days. These great cars and many others are available at the Mike Davidson Ford Dealership right now. There is a huge inventory in stock to choose from.
And the Ford Taurus is not alone in its latest accolades. There are several other models that have been receiving notice like the F-150 truck series, the Edge, Escape, Fusion and the Mustang, just to name a few. It would seem nearly the entire Ford family is living up to its name of excellence. And it appears that there's never been a better time to get a new Ford in Jacksonville as the dealership begins to liquidate their stock, making room for the new 2012 arrivals flowing in. When purchasing a Ford or any used cars in Jacksonville or used trucks in Jacksonville at this # 1 ranked Ford dealership in volume, consumers can know with confidence that they are getting the very best Ford has to offer from the very best dealership and team that Jacksonville has to offer, bar none. They offer a variety of services and conveniences like their onsite service department offering high quality new OEM Ford parts and first-rate repairs and scheduled maintenance from highly trained and certified technicians that care about the quality of their work and the safety of their customers.
Another feature of the modern day dealership is the convenience of an online showroom where customers and potential customers can peruse the entire content of the dealership's available inventory from the comfort and privacy of any PC in their home or office. There are great internet prices available for these shoppers, and they can inquire into available financing offers that might be applicable to them all at the same time, without ever having to step foot outside the door. In a fiercely competitive industry such as new and used car sales, this couldn't make more sense. Giving the customer what it wants in a dealership in terms of ease of access and convenience is not just smart business. It's a necessity in order to stay on top in the current economic market. Mike Davidson Ford sees this and makes every effort to find new ways to keep customers happy, making loyal customers for years to come.
###