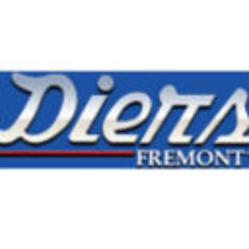 Omaha, NE (PRWEB) November 15, 2011
At Chuck Diers Ford in Omaha, NE the availability of the highly rated F-150 series of trucks is plentiful, much like the recent accolades the trucks themselves are receiving. In recent days the '04 -'09 F-150 trucks have been named to the Edmunds 2011 list of Best Used Cars. Among truck lovers, nothing has the reputation of the Ford F-150. This rugged work truck has been going strong in one form or another since as far back as the 1940s. Ford F-Series trucks score high on dependability and have an unbeatable resale value for their group. The best pickings, quality-wise, are the years 2004 to 2008, where the more rounded styling and plastics of the previous generation were recast into a brawnier and more refined package. Since this has been America's best-selling vehicle for the past 33 years, there's plenty of selection to choose from. Even more so than most pickup trucks, there are an incredible number of different cab styles, powertrain choices, and trim selections available to choose from. And at Chuck Diers Ford there are plenty of used Ford trucks in Omaha available to be seen.
Used Fords in Omaha at this dealership come in all models and sizes. But let's not forget the incredible selection of new Fords in Omaha that Chuck Diers Ford carries. The 2012 models have started rolling in to an enthusiastic response, and the experienced sales team at Chuck Diers relishes the opportunity to acquaint the car buying public with the stellar selection of models available. The new Ford Mustangs have been receiving high praise along with the new Ford Edge. These great vehicles are on the lot and waiting to be inspected and test driven by consumers wishing to invest their hard earned dollars in the Ford legacy that stands by the saying "Built Ford Tough" ensuring their money is well spent on solid American quality.
High quality Fords are not the only vehicles to choose from there. They have a vast and extensive inventory of makes and models available in the pre-owned vehicle category. Used trucks in Omaha are represented by all the major automakers at Chuck Diers' dealership. All one has to do is inquire by phone or go to their website where their online showroom can be accessed from any home or office computer to see the incredible deals and inventory at the fingertips of those consumers with even a rudimentary knowledge of computers these days. This use to be the domain of only those individuals with a firm grasp on surfing the wave known as the internet. But with the ease of these sites and the ever increasing number of home computers, all that's a thing of the past. Even your grandmother can navigate these sites. And if she were to, she'd find the deals available to internet customers are very attractive indeed.
First in Results SEO Marketing
###