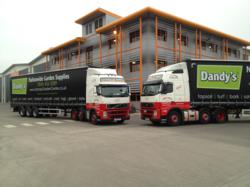 Farralls Transport are absolutely second to none.
(PRWEB UK) 15 November 2011
Dandys Rock Salt .co.uk have today confirmed a deal between the UK's leading rock salt supplier and award winning Palletforce member, Farralls Transport.
The deal sees Chester Palletforce member, Farralls Transport, become the sole pallet network provider for the award winning Dandy's, in the UK, for the next two years; with a view to extend the deal in 2013 by an additional five years.
Over the past three unexpectedly cold and icy winters, Flintshire based Dandy's were the only UK based rock salt supplier able to have continuously supplied the general public, businesses and the emergency services with their much needed de-icing grit. With the last three winter periods in the UK being the worst seen in over two decades and with this season set to be the coldest yet, it was pivotal Dandy's ensure that they had a sole provider that would excel all year round, no matter the weather or volume of pallets being sent out.
The deal, worth an estimated £10million over the next seven years, is the result of an enormous amount of hard work and outstanding levels of customer service given by Manager Paul Mather and the team at Farralls Transport as well as other Palletforce members, when delivering Dandy's freight over the past eight months.
Managing Director of Dandy's Rock Salt .co.uk, Adam Dandy, commented; "Farralls Transport are absolutely second to none. They are permanently focused on continuously improving their service to us, with weekly meetings taking place with our Logistics Supervisor and General Manager. They listen to our concerns and act quickly to meet our needs; Mike, Mark and Elaine Farrall and their whole team have given us the confidence to commit to them as our sole provider for the foreseeable future.
As a user of pallet networks for over five years we have tried many other suppliers and can wholeheartedly say that the service our customers receive from the Palletforce central hub in Burton on Trent, and from the entire network as a whole is, without doubt, the best in the industry."
The Dandy's contract also includes the distribution for all of the company's spring and summer goods from their garden related websites, Dandys Topsoil .co.uk and Dandys Garden Centre .co.uk.
###