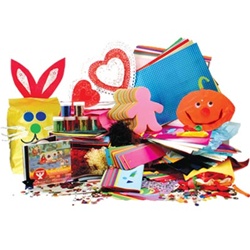 "We are pleased to award the success of our teachers by recognizing Kim Ingram. The gift certificate will allow Ms. Ingram's classroom to benefit from the innovative craft kits, teaching supplies, and craft supplies from Hygloss"
Wallington, N.J. (PRWEB) November 17, 2011
This week, Hygloss Products announced the winner of its Century of Dedication contest, sponsored by Hygloss Products and Hertz Furniture. Kim Ingram, an assistant teacher in the Head Start classroom at Hunter Elementary School, located in Elizabethton, Tennessee, is the grand prize winner.
As winner, Mrs. Kim, as she is affectionately called by everyone in the Carter County Head Start program, received $150 in teacher supplies from Hygloss Products, the arts and crafts superstore, and from Hertz Furniture a four-branch A+ Collaboration Activity Table. Mrs. Kim can use the Hygloss gift certificate on teacher supplies, scrapbooking supplies, and arts and crafts products. Carter County Head Start Director Peggy Campbell says of Mrs. Kim, "She greets her students each day with a smile and makes learning fun in our Hunter Head Start classroom." The veteran teacher was grateful for the prizes, particularly the teaching supplies that will enhance her classroom.
Hygloss Products joined Hertz Furniture, leading school furniture supplier, in sponsoring the contest, to celebrate Hertz Furniture's 45th year anniversary. "We are pleased to award the success of our teachers by recognizing Kim Ingram. The gift certificate will allow Ms. Ingram's classroom to benefit from the innovative craft kits, teaching supplies, and craft supplies from Hygloss Products," said the company president Moshe Neurath.
About Hygloss Products:
Since 1950, Hygloss Products has offered innovative arts and crafts supplies to ignite creativity in children and adults. Teachers, parents and hobbyists alike enjoy the superior quality of Hygloss craft supplies, specialty paper and classroom essentials. Children's minds are ever expanding, and that's why the Hygloss product line is constantly being updated.
All Hygloss Products come with a money back satisfaction guarantee because we're not happy until you are. Give yourself a fabulous crafting experience with unique and exclusive supplies from Hygloss Products.
Hygloss Products
800-444-9456
###