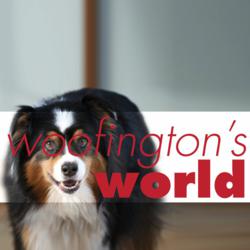 "Why keep a dog and bark yourself," says Woofington's owner, Tom. "Woofington's a great model. She makes us smile every day. Her site will bring smiles to viewers twice a week."
Wilton, CT (PRWEB) November 16, 2011
Woofington is a well-loved and oft-photographed, tri-color female Australian Shepherd.  Two of her three owners are photographers and thanks to their images she's a dog that has developed quite a following. On November 16, 2011, she's taking her portraits and products and canine conjecture online on her new blog, Woofington's World.
Twice each week, on Wednesdays and Saturdays, Woofington will post under one of several headings, including Candids, Holidays, Indognito, Pet News and Random Barks. Folksy quotes, product reviews, pet research, health and training tips and links to laughable animal videos are just some of what readers can expect to find at Woofington's World. Each post will be accompanied a photo of Woofington in costume or in one of her many moods – playful, pensive, frisky or ready for fun.
"Why keep a dog and bark yourself," says Woofington's owner, Tom. "Woofington's a great model. She makes us smile every day. Her site will bring smiles to viewers twice a week."
Woofington's World will feature Woofington-approved products. A Woofington's World 2012 Calendar is $16.00 plus shipping; a set of 12 Woofington's World cards with miscellaneous Happy Birthday, Get Well and Thinking of You sentiments is available for $18.00. The site is also available for advertisers.
Woofington's World should find a loyal audience. According to the 2011-2012 APPA National Pet Owners Survey, 46% of U.S. households own a dog; 78 million dogs in total. Americans will spend an estimated $50 million on their pets this year, spending that has not decreased, despite the recent decline in the economy.
For more information on blog content, product reviews or advertising opportunities, contact Tom Grotta at 203-834-0623 or woof(at)woofingtonsworld(dot)com.
High-resolution color images available on request.
Contact:
Tom Grotta
203.834.0623; 203.762.5981 (fax)
woof(at)woofingtonsworld(dot)com
###