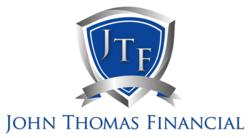 New York, NY (PRWEB) November 15, 2011
John Thomas Financial, a full-service independent broker-dealer and investment-banking firm located in New York City's Financial District, announced today that it has appointed Jim Kane as Managing Director of Fixed-Income Securities as the latest development in its ongoing expansion.
Mr. Kane joins John Thomas Financial with over 30 years of experience in the financial services industry, with a strong expertise in bonds. Mr. Kane is welcomed following a successful career with Spear, Leeds & Kellogg, an institution historically renowned as one of the largest specialist firms on the New York Stock Exchange.
Upon developing a sizeable and successful niche book for UK & Europe-based flow, Mr. Kane launched a direct sales and trading desk for SLK in London. He grew the desk to a staff of 25 and returned to the United States upon the acquisition by Goldman Sachs to continue his role with SLK/Goldman and subsequently SLK/FTN.
Having spent decades as a market maker in the bonds market with Spear, Leeds & Kellogg, Mr. Kane brings his knowledge base, fundamental and technical skill-set and deeply rooted global relationships to John Thomas Financial.
"John Thomas Financial is pleased to be able to offer our clients a platform that is supported by Jim Kane's specialized knowledge and understanding of fixed-income securities. His highly unique skill-set enables our firm to remain steady on its path of strategic growth," said John Thomas Financial CEO Thomas Belesis.
John Thomas Financial has made several strategic hires in 2011. Earlier this year, the firm welcomed Mario Truglio as Managing Director of Institutional Sales and Richard Urbealis as President of its affiliate, JTF Private Wealth Management.
For timely insights, news, and commentary on economics and financial markets, visit the JTF Blog or join the John Thomas Financial community on Twitter and Facebook.
About John Thomas Financial
John Thomas Financial, a member of FINRA and SIPC, is an independent broker-dealer and investment banking firm headquartered in New York City's Wall Street district. Emphasizing a client-centric approach to managing all aspects of its business, John Thomas Financial and its affiliates offer a full complement of retail brokerage, private wealth management, and corporate advisory services tailored to the unique needs of its clients. The firm publishes the Fiscal Liquidity Index a unique daily indicator that looks at government spending and its impact on the financial markets, as well as John Thomas Financial Economic Outlook, a research report analyzing consumer sentiment, market outlook, credit cycles and dozens of other market influences. For more information on the firm, please visit: http://www.johnthomasfinancial.com.
###