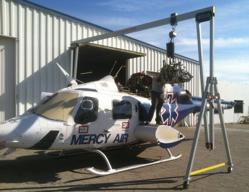 Ft. Erie, ON (PRWEB) November 17, 2011
Mercy Air, a division of Air Methods Corporation (http://www.airmethods.com), needed to find a better and safer way to remove, transport and install motors and transmissions in its helicopters. Renting fork lifts was proving to be cumbersome, expensive and dangerous as the components, often costing in the high six figures were in danger of being damaged during the removal or installation process or worse being dropped when being transported from the equipment to the work area or to placement in the shipping boxes for return to the manufacturer for service.
Jeff Rubi, Regional Maintenance Manager for Mercy Air, began looking for a safer and more effective maintenance lifting system to service the equipment in his care. The ideal solution would be a lightweight, portable and strong lifting device that could be easily moved around his facility, be tall and wide enough to be moved over the equipment and with the capacity to lift and move components that often weighed over 1500 lbs.
Jeff found eme's website and liked what he saw. He provided eme a list of requirements and was pleased to find they could meet all of them in one lightweight and portable gantry unit.
The specifications called for a gantry crane that need a lift height of at least 14 feet to the hoist hook, a 20 ft. beam capable of lifting over 2000 lbs., easily assembled and knocked down with a maximum of four operators without the need for hoists or crane to lift the unit into position and strong enough that it could be rolled when under load.
A review of available equipment ruled out 'I' beam style cranes as tall models are difficult to assemble without rigging equipment and most cannot be rolled when under load. eme's gantry crane, with its proprietary extruded 'box-beam' and 'ground-up' assembly was the perfect choice.
eme's portable aluminum gantry crane was supplied with a split beam which allowed the beam to be easily moved in freight elevators to roof-top locations to be able to service helicopters on the helipads, locking swivel and wheel-lock casters, Locking 'Surround-Beam' Trolley, Gr. 9 plated fasteners, powder coat finish, 10 Year Warranty, certified to 150% of lift capacity, Engineer's Stamped Drawing and Operations Manual.
To solve problems similar to what Mercy Air faced see eme's maintenance lifting equipment on their web site.
###