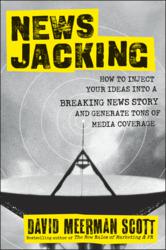 The e-book format brings readers the opportunity to learn by example from real-life, real-time stories of newsjacking success that illustrates fundamental principles and pitfalls.
Hoboken, NJ (PRWEB) November 15, 2011
With today's launch of Amazon's new full-color Kindle Fire, bestselling Wiley author and marketing and PR strategist David Meerman Scott has released "Newsjacking: How to Inject your Ideas into a Breaking News Story and Generate Tons of Media Coverage" (Wiley; November 2011; e-book; 978-1-118-25231-4; $9.99), the first business book optimized for use on color and internet accessible e-readers.
"I wrote Newsjacking to take advantage of the many features of the e-book format used by Amazon's new Kindle Fire, Apple's iPad, and the Barnes & Noble Nook," says Scott. "The new book experience means watching the video the author mentioned with one click. It means you can check out the Twitter feed of the expert cited in the text. You can see the cool picture that was once worth 1,000 words. It is a new world."
In "Newsjacking," Scott describes a 24/7/365, second-by-second news environment where the most powerful way savvy businesses, organizations and individuals can input themselves into national stories and generate media attention for themselves is by newsjacking their way in. Scott describes this process of newsjacking as a way to inject ideas or angles into breaking news, in real-time, in order to generate media coverage for yourself or your business and creates a level playing field.
Literally anyone can newsjack but that new level favors players who are observant, quick to react, and skilled at communicating. The book offers a quick and punchy read that prepares readers to launch their businesses ahead of the competition and attract the attention of highly-engaged audiences by making use of breaking news.
The e-book format brings readers the opportunity to learn by example from real-life, real-time stories of newsjacking success that illustrates fundamental principles and pitfalls. With links directing readers to the example news articles referenced, readers will meet the masters of modern newsjacking - a surprising group rife with colorful characters.
"Interactivity means business books come alive! As an author, that is a terrific opportunity. These new e-readers, now including the new Kindle Fire, bring a non-linear experience to reading a book. You can instantly jump from one part of the book to another." says Scott. "Better yet, now you can instantly link from the book to external content too. It means a book read on one of these devices is like reading a blog post with links to valuable content from other places."
"Newsjacking" includes links to examples from various and diverse organizations, such as:

Wynn Resorts Ltd.'s newsjack of Paris Hilton's Las Vegas arrest
Texas Governor Rick Perry's newsjack of the Ames Iowa Straw Poll
Oakley's Sunglasses' newsjack of the rescue of 33 Chilean miners
"Newsjacking is a powerful tool that can be used to draft off news momentum to benefit your organization," says Scott. "It's about taking advantage of opportunities that pop up for a fleeting moment then disappear. In that instant, if you are clever enough to add a new dimension to the story in real-time, the news media will write about you."
For more information about "Newsjacking," please visit Scott' blog or Wiley.com's press room.
About the Author:
David Meerman Scott (Lexington, MA) is a marketing strategist, keynote speaker, seminar leader, and bestselling Wiley author.
His books open people's eyes to the new realities of marketing and public relations. He is also the author of The New Rules of Marketing & PR, now in its third edition, which has sold over 250,000 copies and spent six months on the BusinessWeek bestseller list. His other books include The Wall Street Journal and USA Today bestseller Real-Time Marketing & PR the hit book Marketing Lessons from the Grateful Dead: What Every Business Can Learn from the Most Iconic Band in History (written with co-author Brian Halligan, CEO of HubSpot).
David's popular blog and hundreds of speaking engagements around the world give him a singular perspective on how businesses are implementing new strategies to reach buyers directly and in real time. His Web Ink Now blog is ranked by "AdAge Power 150" as a top worldwide marketing blog.
He is a recovering VP of marketing for two publicly traded technology companies and was also Asia marketing director for Knight-Ridder, at the time one of the world's largest newspaper and electronic information companies. Scott has lived and worked in New York, Tokyo, Boston, and Hong Kong and has presented at industry conferences and events in over twenty countries.
If you are interested in an interview with Scott, a review copy of Newsjacking, or if you would like any additional information, please contact Melissa Torra, Publicist – WILEY mtorra(at)wiley(dot)com – 201-748-6834
NEWSJACKING
How to Inject your Ideas into a Breaking News Story and Generate Tons of Media Coverage
By David Meerman Scott
Wiley; e-book; November 2011; $9.99
ISBN: 978-1-118-25231-4
For more information about Wiley's books, please visit our Press Room http://www.wiley.com/go/press
Follow us on Twitter @WileyBiz for more information on our Business books and authors
###