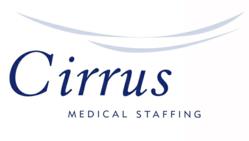 "Our 2011 revenue track continues to be very positive heading into the final months of the year," said Randy Holloran, president of Cirrus Medical Staffing
Charlotte, NC (PRWEB) November 15, 2011
Cirrus Medical Staffing(http://www.cirrusmedicalstaffing.com), an industry leader in travel nursing and allied healthcare staffing, today announced its financial performance for the period of January 2011 through September 2011. The company reported a substantial increase in nursing and allied staffing-related revenue for the first three quarters of 2011, equating to a 53% increase year-over-year for the same period in 2010.
"Our 2011 revenue track continues to be very positive heading into the final months of the year," said Randy Holloran, president of Cirrus Medical Staffing. "Our nursing and allied divisions have added a substantial number of new staffing clients during the last three quarters to help fuel our growth. Additionally, as overall market conditions continue to improve, we've experienced a significant increase in demand for nursing and allied personnel across a variety of healthcare sectors. As we look to 2012, our outlook remains one of strong and continued growth. It's an exciting time for our company."
About Cirrus Medical Staffing
Based in Charlotte, NC, Cirrus Medical Staffing is an award-winning healthcare staffing firm, providing medical professionals to healthcare facilities across the nation. Cirrus Medical Staffing specializes in placing nurses and allied health professionals into travel, contract and permanent employment positions. Cirrus Medical Staffing is ranked as one of the top 10 travel nurse companies in the US and is Joint Commission Certified.
###