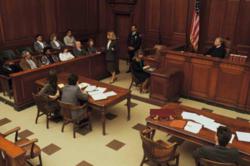 A hidden killer is lurking in even the most innocent looking pools and spas.
Tampa, FL (PRWEB) November 28, 2011
Imagine the shock of finding out that, as the owner of a swimming pool, you are liable for millions of dollars in legal judgments. Play It Safe Technologies, LLC has studied the history of legal cases related to a little know danger in swimming pools ... entrapment by pool drains causing horrific injuries and even death. They have found that pool owners are taking a significant risk if their pools are not properly equipped.
"A hidden killer is lurking in even the most innocent looking pools and spas," says Rex Cowan, an attorney and one of the founders of Play It Safe Technologies. "The suction power of pool drains is so great that, if there are not proper protections in place, unsuspecting bathers can be trapped up against them. This can cause horrific injuries such as evisceration where intestines are pulled out through a person's mouth or anus. Death by drowning also happens."
Cowan has assembled a history of legal cases surrounding these accidents going back to 1974. The results are astonishing ... millions of dollars in legal settlements for cases involving entrapment in pools. "Most owners don't understand the level of liability," said Cowan. "They are risking everything they own because they don't understand the dangers or are trying to save a few dollars."
In one of the most famous cases, six year old Abigail Taylor was with her parents at a golf club pool in Minnesota when she accidentally fell on to an open drain and her buttocks were sucked into the aperture. The suction pulled a large 21 foot section of intestines out of her body through her anus. She died nine months later after organ transplants failed to save her life. The accident resulted in an $8 million judgment against the pool owner. (Taylor v. Sta-Rite Industries, LLC, Case No.: 27-CV-07-23405 - Hennepin County District Court, MN 2008.)
"It's a real waste," said Dr. L. Steven Beckham, co-founder of Play It Safe Tech and its product creator. "We've developed a cost effective product that can help prevent these tragedies. If the drain is blocked, our automatic shutoff system turns off the pump and won't let it restart until it's manually reset."
Play It Safe Technologies is based in Winter Haven, FL. The blog on their website provides a wealth of information on these topics.
The Safe Shield APS 120 Automatic Pump Shutoff is available for purchase through Amazon.com. The APS 120 is available for a limited time at an introductory price of $399. The regular list price is $750.
You can also visit the Play It Safe website for more information at: http://www.PlayItSafeTech.com.
# # #