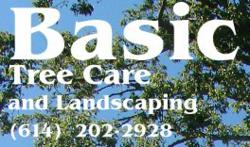 Adding landscaping service is a natural extension of what we do and allows us to provide full service for homeowners
Columbus, OH (PRWEB) November 16, 2011
Basic Tree Care, a leading tree service company in Ohio, has announced it is adding a new landscaping division. The company is working with some of the area's top landscape architects to create total backyard renovation and beautification in the greater Columbus area.
"Adding landscaping service is a natural extension of what we do and allows us to provide full service for homeowners," says owner Leah Myers. "Not only will this service make the homes and businesses we work for more beautiful, it will make the property more functional and aesthetically pleasing."
Basic Tree Care has also expanded into hardscaping, which is the installation of pavers and retaining walls. This longstanding landscape contractor will include free consultations with home and business owners who seek two important services: improving the appearance of their outdoor living space and resolution of problem areas on their property. Many homes, for instance, have serious drainage problems that can be corrected through the strategic installation of certain plants, shrubbery, walls, gravel and other stone work.
"We view this as an opportunity to help homeowners see new possibilities for their yards, as well as to make improvements that will last year after year," Myers said. The company is also offering full-scale landscape design services, working with property owners who want improvements to their lawn but who might not know exactly what their options are or the types of plants, flowers, shrubbery or other advanced landscaping elements available.
The experts at Basic Tree Care can sit down with home and business owners, take a look at the land, list all possible options and come up with a unique blueprint for the new landscape.
"We have already partnered with landscaping firms for new and old clients and everyone has been very pleased with the blend of services we offer," says Myers. "As arborists, we work with top nurseries to offer a huge selection of small trees, shrubbery, flowers, gravel and grasses, all of which make a huge impact on how land looks and functions. We have the knowledge it takes to understand which plants work well together, as well as planting and landscape design techniques that last for many, many years."
The company offers tree and landscaping services in many areas of Ohio, including Columbus, Dublin, Newark, Lancaster, Gahanna, Westerville, Reynoldsburg, Upper Arlington, Delaware and Clintonville.
For media inquiries, call Leah Myers at 740-349-5796.
http://www.basictreecare.com
###