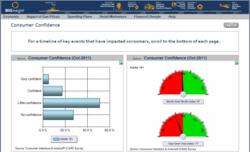 The Vital Signs InsightCenter™ provides access to key economic vital signs that are shaping the U.S.
Worthington, OH (PRWEB) November 15, 2011
In 2007, over half of consumers were confident in chances for a strong economy, but today, less than 1 in 4 has this same assurance. In these troubling economic times, marketers need to understand changing consumer sentiment and how it impacts purchasing behavior and motivators—what consumers plan to buy and why. To meet this need, Prosper has announced the debut of Vital Signs InsightCenter™, the latest Consumer Android Tablet App and InsightCenter™.
Vital Signs InsightCenter is a dynamic service derived from surveys collected every month of 8,000+ consumers. It answers questions like:

At what gas prices do consumers make changes and what changes do they make?
Purchase plans for computers and mobile devices are on the rise: How will this affect plans to buy stereo equipment and digital cameras?
At what income level do American consumers feel like they are saving enough for their future needs?
The Vital Signs InsightCenter includes a unique timeline of major events in the United States to put the trended data into perspective. It's a compilation of key economic insights plus future purchase plans straight from the people who matter most—consumers—and it's all in one place. No more scouring the web or cross-referencing multiple sources. It's fast, easy to use and smart. Install the tablet app and you've got answers at your fingertips.
Click here to explore the Vital Signs InsightCenter™
(Basic access is complimentary.)
Download the Free App on Your Android Tablet
Click here for more information
The Vital Signs InsightCenter is powered by Prosper Technologies™, a Prosper Business Development brand. With a tradition of innovation for over 20 years, Prosper has provided market leadership and developed contemporary solutions to help companies at the top of their respective industries navigate change that impacts their business. Prosper has developed solutions that provide answers to today's most urgent marketing issues.
About Vital Signs InsightCenter™
The Vital Signs InsightCenter is an advanced platform for the visualization and delivery of insights and answers on how consumers in the U.S. are reacting to key economic events. It illustrates how consumers feel about the economy, changes they make in their lives in reaction to the economic situation, and how their personal financial and spending plans are affected by key events. It goes beyond traditional point-in-time data reports to trended insights in one easy-to-use, decision-ready format.
Contact:
Chrissy Wissinger
614-846-0146
info(at)BIGinsight(dot)com
Android is a trademark of Google Inc
###