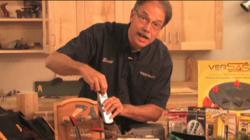 Woodcraft once again has asked me to come up with great gift ideas for every woodworker. Check out the list here, and then watch my video for more details.
Parkersburg, WV (PRWEB) November 17, 2011
Make quick work of shopping for the woodworkers and "home care specialists" on your gift list. Check out the Woodcraft products selected by Scott Phillips, host of "The American Woodshop" on PBS. To learn more about the products, watch Scott demonstrate them online at http://youtu.be/sgr9ppOOFBg.
Handy Helpers ($35 and Under)

Woodcraft 22-Pocket Apron – Made of reinforced polyester, this sturdy shop apron has handy storage pockets for tools, tapes, screwdrivers and much more.
YGC General Utility Gloves (Medium, Large, Extra Large) – Made from high quality, lightweight man-made materials, these gloves from Youngstown are tough but also comfortable.
FastCap MXV-Pocket Dust Mask, N95 Rated (10-pack) – This lung protector blocks about 95% percent of particles that are 0.3 microns in size or larger and when not in use easily folds up to fit in a pocket.
"Woodcraft Magazine" Subscription – This year-round gift provides quality project, technique and product stories, plus related information. Great reference. For a limited time buy a one-year subscription and get an extra year free.
ToughBuilt Cliptech Pouches – Pouches range from very large to small size and provide portable storage for fasteners, supplies, tools and more in interior pockets. The patented Cliptech system allows pouches to be easily clipped to any belt.
Cutting Board Kit – Exotic and domestic hardwoods have been milled and packaged for easy creation of an 11-3/4" x 12" x 1-1/2" cutting board – great gift to make or give.
Versa Spin 360 – Used with Painter's Pyramids and Grabbers, the16" Versa Spin is a versatile support (100-lb. capacity) that allows the user to easily rotate projects for finishing, sanding, painting and other tasks. The smaller 11" Versa Spin has a 25-lb. capacity.
Jorgensen ISD3 Expandable Clamps (6", 12", 24" + 36") – The ISD3 design allows two clamps to be combined for double clamping length. Another adjustment transforms the ISD3 into a spreader clamp.
Bessey Auto-Adjust Toggle Clamps (Low, High and Inline) – Bessey's auto-adjust feature ensures perfect clamping pressure by automatically adjusting to the variations of workpiece dimensions.
Versatile "Combos" ($36 to $75)

WERA Kraftform Kompakt 26 7-1 Bayonet Screwdriver – Use this versatile tool extended or retracted, push a button to expose the six 1/4" insert-style bits stored in the handle, or quickly release a locking chuck and spinner mechanism to allow use with a cordless drill driver.
Pinnacle 12" Combination Square (3-piece) – Measuring is easier and quicker with this three-in-one tool—a blade with extra fine graduations (8ths, 16ths, 32nds), a square head and center finder.
Snappy 5-Piece Countersink Set – Drill, countersink and counterbore the perfect sized hole for five common sized screws with this handy tool.
LED Magnifying Lamps – This combination of a magnifying lens with either an 80 LED and a 60 LED light and a flexible, spring-balanced arm is perfect for scrollsawing or other close work.
Kreg Jig Jr. – This kit includes all a woodworker needs for pocket joinery projects.
Serious Shop Partners ($76 to $150)

WoodRiver Low Angle Block Plane with Adjustable Mouth – Woodworkers will welcome this versatile plane for tasks that require removing a controlled amount of material such as trim, molding and doors, as well as finessing trim.
Vika Twofold – Depending upon the positioning of the legs, the Vika Twofold can be used as a workbench or scaffold (500-lb. capacity). Bench comes with tool tray, drilling hole, and a protractor and ruler inscribed into the MDF work surface.
Rockwell BladeRunner – This multipurpose, precision cutter can be attached to a wall or operated on a benchtop. It uses any T-shank jigsaw blade to cut wood, metal, ceramic tile, aluminum or plastic.
Don't forget the Woodcraft Gift Card that comes in any amount and allows the receiver to select exactly what he or she wants.
To purchase or learn more about any of these products contact the nearest Woodcraft store, visit http://www.woodcraft.com, or call (800) 535-4482. To learn about Woodcraft franchise opportunities, call (800) 344-3348, visit http://www.woodcraftfranchise.com or email woodcraftfranchise(at)woodcraft(dot)com.
###