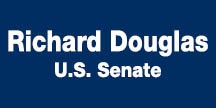 Richard Douglas - leading U.S. Senate Republican candidate from Maryland announces key endorsement by Ambassador John Bolton.
College Park, Maryland (PRWEB) November 15, 2011
Richard Douglas, an Iraq veteran, former Diplomat and small business owner, is pleased to announce that Ambassador John Bolton has strongly endorsed his accelerating campaign to unseat incumbent Democrat Ben Cardin in the United States Senate.
Ambassador Bolton said, "Douglas is the most qualified Senate candidate to emerge in Maryland in forty years. Douglas will bring badly-needed experience to the Senate at a moment of profound crisis. He has my full endorsement."
Ambassador Bolton served both Presidents Ronald Reagan and George W. Bush. A Baltimore native and a lifelong Maryland resident, Bolton is considered America's foremost conservative authority on constitutional law and foreign relations.
Douglas welcomed Ambassador Bolton's endorsement, calling him "Maryland's most admired conservative." Douglas continued, "I am grateful for Ambassador Bolton's strong endorsement and I am determined to justify the confidence he and other Marylanders have placed in me."
Ambassador Bolton represents the third major endorsement for Richard Douglas in just two weeks. Former Maryland State Republican Chair Audrey Scott endorsed Douglas on November 1, calling him "clearly the most experienced and capable candidate running." Ambassador Roger Noriega, who hosted a hospitality suite for Douglas at the Maryland Republican Party Convention in Annapolis, endorsed Douglas on November 8.
Richard Douglas recently served our Country as the U.S. Deputy Assistant Secretary of Defense responsible for Pentagon programs to combat narcotics trafficking and the proliferation of nuclear and chemical weapons.
Douglas served as a senior United States Senate staffer from 2000 to 2005. He was Chief Counsel at the Senate Foreign Relations Committee under the late Senator Jesse Helms, and also served as the Senate Intelligence Committee's General Counsel.
Douglas has written extensively on topics such as the damage to U.S. sovereignty caused by unchecked multilateralism, self-defeating U.S. Senate treaty practices, and the deeply-flawed UN Convention on the Law of the Sea.
Richard Douglas has lived in Maryland for 25 years, in Montgomery County and now in College Park. He has two adult children. He is an Iraq veteran, a submarine veteran, and a Lieutenant Commander in the Navy Reserve. He operates a Maryland-based air transportation and logistics company. In the past, Richard Douglas has volunteered as a lay chaplain at the District of Columbia jail, where he ministered to Spanish-speaking and other inmates.
For more information about Richard Douglas please see http://www.RichardDouglas.org.
Paid for by Douglas for U.S. Senate 2012
###