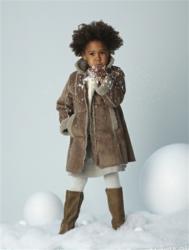 (PRWEB UK) 16 November 2011
With the northern hemisphere approaching the crisply cold and damp days of winter, leading European children's clothing brand Vertbaudet had endeavoured to develop and design a range of winter coats to keep little ones looking stylish and feeling warm and cosy, whatever the weather. The new range of winter coats are now available from Vertbaudet's Autumn/Winter 2011-12 collection.
Winter Coats for Baby
The delicate and sensitive skins of babies and young children up to three years will be well-protected from wintertime chills, thanks to the chic range of coats and jackets from Vertbaudet's latest collection. The star attraction this season is the versatile baby coat from the 100% Expert Collection, which features a small tab fastening that means that cuddly toys will never get lost again! The Expert Collection coat is lined and padded for extra warmth with an extra removable inner jacket, comes complete with super-soft mittens and is currently available in a range of colours suitable for girls and boys. And in typical Vertbaudet style, the designers have also taken into consideration the busy and hectic lifestyles of Mums and Dads – so this coat is not only machine washable, but also features zip fastenings and button tabs so baby can be dressed or changed in a flash!
For a final touch of enchanting styling this coming festive season, little girls up to 3 years old will look as pretty as a princess thanks to a choice of offerings from Vertbaudet's range of winter coats. Teamed with a cute pair of baby shoes from Vertbaudet's extensive Autumn/Winter 2011-12 collection, both the sophisticated double-breasted girl's woolcloth coat and the classic charms of the girls' duffle coat will provide a smart but snug option for keeping warm under wraps this year. For boys up to 3 years old, Vertbaudet's woolcloth pea jacket brings a refined twist to the modern smart-casual styling, thanks to the jacket's removable jersey hood and double breasted button detail combination.
Children Can Stay Warm in Style This Winter
Vertbaudet also provides a stunning array of winter coats to help older children stay both stylish and warm throughout the colder months, until the arrival of the new spring season. With Vertbaudet's lined pure cotton herringbone jacket, which features two patch pockets and a chest badge, young men can look well-groomed and on-trend in an instant. And little ladies can make a dazzling entrance to any festive event or gathering this season with Vertbaudet's cute, classy and cosy woolcloth coat. The lined woolcloth coat for girls aged 2 – 13/14 years incorporates a myriad of simple and delicate design features, including a stitched waist with bow detail at the back, two seamed pockets, and cuffs with button tabs. The classically styled coat comes in a choice of five colours – black, brown, purple, dark red and grey lilac – and Mums and Dads will be pleased to note that this woolcloth coat can be machine washed, helping to keep it in tip-top condition all season long.
For boys and girls who prefer a little more relaxed styling, but want to look cooler than Jack Frost himself, the Boys' and Girls' Parkas offer a fantastic alternative. With the girl's parka, Vertbaudet's renowned aptitude for stylish but practical clothing shines through, with the reversible parka offering not one, but two outfit options. Likewise, thanks to the I Can Dress Myself Range boy's parker, little adventurers can stay toasty even when faced with the bitter chill of a wintertime playground, with a handy micro fleece lining and easy zip pull that has been designed exclusively for little glove-clad fingers.
More fantastic winter coats, outfits, shoes and accessories for the Autumn/Winter 2011-12 range can be found online at http://www.vertbaudet.co.uk
About Vertbaudet
Vertbaudet is an award winning children's and maternity wear brand, which forms part of the Redcats Group, alongside other industry leaders such as La Redoute, Daxon and Empire Stores. Redcats Group is a member of PPR Group, together with a number of luxury brands such as Gucci, Yves Saint Laurent and Stella McCartney.
Founded over 40 years ago in France, Vertbaudet is recognised as a leading UK baby and children's wear specialist, with an established home shopping network and high street stores throughout Europe.
###