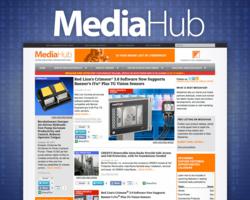 "MediaHub provides a valuable resource for industrial newsmakers—those who develop and manufacture new technologies and products, and our key media partners who report these trends."
Minnetonka, MN (PRWEB) November 17, 2011
Next Communications, Inc. introduces the MediaHub, http://nextmediahub.com, the online portal where industrial newsmakers meet. MediaHub provides a resource for Next Communications' clients and media partners to distribute, share and monitor the latest industry news and product developments, providing centralized access to vital marketing resources.
MediaHub offers free listings for companies to put their news releases, feature articles and white papers in front of key industrial editors who subscribe and frequent the site. A user-friendly tool lets companies easily submit their resources to the site for complimentary publication. Site users are able to easily share and forward published information through integrated social media and sharing tools, making MediaHub a comprehensive portal with essential industry news and marketing resources in one convenient location. Other features include:
-Upcoming feature editorial opportunities calendar: A listing of upcoming feature editorial opportunities in key trade media is organized by industrial topic, issue date and publication name. Users can request more information on how to be included in relevant topics by sharing their expertise.
-Industrial media calendars: The Next News Network facilitates involvement between companies and key industrial media, providing easy access to descriptions of publications, their Twitter accounts, websites and editorial calendars.
-Upcoming industrial trade shows: A calendar of U.S. and international industry trade events helps publicize these shows by providing names, dates and links to more information.
-Best of industry blogs: A listing and links to popular blogs pertaining to current industrial issues and trends deliver easy access to posts from industrial thought leaders without the need to browse through multiple websites.
"MediaHub provides a valuable resource for industrial newsmakers—those who develop and manufacture new technologies and products, and our key media partners who report these trends," said Dennis Gallaher, President of Next Communications. "Companies can publish product releases, articles or white papers on the site to spark the interest of key editors who subscribe to MediaHub. Additionally, the site serves editors by providing a single, easy-to-use place where they can explore a diverse range of new product releases and resources that can be utilized for their editorial coverage."
MediaHub features an intuitive interface and integrated social media. Users can browse best-of-the-industry blogs and see what's happening in the industry through a keyword-driven Twitter feed. The site also facilitates easy sharing of stories via email, Twitter, Facebook and Google+.
Visit MediaHub at: http://nextmediahub.com
Next Communications is a full service advertising and public relations firm with more than 35 years of experience with industrial trade editors. For more information, contact Next Communications at http://publicist(at)nextcom(dot)com or visit http://nextcom.com.
###