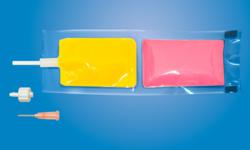 Peabody, MA (PRWEB) November 17, 2011
Adhesive Packaging Specialties' new A-PAK with a needle applicator was initially designed for high-end optical/conductive materials, it is offered in sizes from 2 – 9 grams. The A-PAK syringe combines the advanced packaging technique, utilizing "burst" seal for instant mixing/dispensing of two-part resin systems.
Additional benefits:

Cuts material costs
Ensures greater workplace safety
Protects against moisture
Fast turnaround
Adhesive Packaging Specialties, Inc. is an AS9100 registered facility and provides custom-packaging solutions for a worldwide customer base of adhesive formulators and end-users.
###