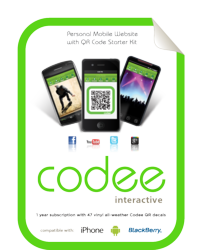 Wow..going to love using this to personalize my holiday gifts
Las Vegas, NV (PRWEB) November 16, 2011
Codee Software Inc. today released what might turn out to be the "must have" stocking stuffer for the holiday season: a consumer oriented QR code product.
Codee announced the release of which includes 47 vinyl decals pre-printed with a digitally unique QR code, along with a year of mobile website hosting. The product retails for $29.95 and is available at Amazon.com, the Company's website, and other online retail locations.
While consumers are increasingly aware of QR codes, they have really been the domain of businesses thus far. According to the company the codee Interactive product changes that and provides consumers a way to communicate with QR codes on a personal level. Consumers can configure the stickers in the codee Interactive package to display their favorite YouTube video, their Facebook page, a personal picture, or a variety of other content when scanned.
With the rapid adoption of Smartphones, and increasing adoption of QR codes, the company believes consumers will use QR codes in a similar but more personal way than a business might do. While businesses may use QR codes to hawk product, consumers may use them to link to their Facebook page, show a personal video message, or quick dial their cell phone.
Marketing Director William Bossung had this to say: "We designed Codee for everyone. Our goal was to make it simple, fast, and fun. We have people using the stickers for displaying videos, doing Facebook 'likes', generating text messages, and linking to web sites. Since the package comes with some very high quality vinyl decals with the printed QR code on them, our users have put them on pretty much anything you can think of both indoors and outdoors." When someone scans one of the codee QR codes with an Iphone, Android or Blackberry Smartphone, they see the content the consumer configured or are prompted to take some action like call a phone number.
While codee Interactive is the first QR code product to focus on consumers, the company believes that ultimately there will be thousands of mobile applications developed using QR codes and related technologies like near field communications (NFC), and image recognition. Codee CEO Fred Covely commented "What you are seeing is the very early stages of a massive shift in how people interact with their environment using phones. At the moment, the focus has been on the commercial use of QR codes, NFC, image recognition, and augmented reality. Our research shows that in time, the average consumer will come up with all kinds of clever ways to use that 'close in' communication capability on a more personal level. Codee Interactive is our way of getting consumers in the game at a low price point."
Codee interactive could make for this Christmas seasons big new gift idea. You can get your codee interactive mobile website and QR code sticker kit at amazon.com today just in time for the holiday season.
###