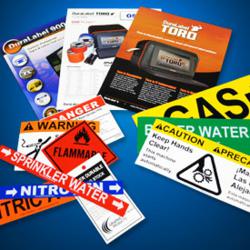 Portland, OR (PRWEB) November 16, 2011
Graphic Products, Inc., the world's leading safety and industrial label printer manufacturer and supplier, has released a Free Label Sample collection containing Arc Flash, Pipe Marking, OSHA, NFPA, RTK, Machine Start Up Procedures and other workplace safety labels in a variety of colors, widths and materials. This provides an excellent opportunity to test the supply's resistance to chemical spills and ability to withstand extreme temperatures. Also available are labels communicating 5S, Kaizen and other warehouse applications which are all linked to safety, productivity and efficiency. Free samples are available both printed and unprinted.
Graphic Products showcases the range of custom labels which are resistant to chemicals and ultraviolet light, that can be created using the DuraLabelPRO300, DuraLabel 300 and DuraLabel Toro thermal transfer printers. DuraLabel supply colors include white, yellow, orange, red, green, blue, orange stripe and yellow stripe. Fluorescent, reflective, high tack, cold storage, repositionable, shrink tube, barcode and other specialty supplies have been created for specific industrial, medical and electronics applications.
All labeling supplies for the DuraLabel line of printers are specially formatted for printing with DuraSuite software. Each DuraLabel printer comes bundled with DuraSuite, making it easy to print professional looking labels.
DuraLabel premium industrial grade vinyl is available:

Six widths – from ½" to 9"
In more than 30 colors
140 foot rolls
For general and specialized applications
In-stock, available for fast shipping
These are laboratory tested supplies -- made for lasting performance on surfaces like oily drums, near electrical circuits or even on freezing pipes.
"Free label samples ensures that our audience are getting the right supply for their application," said Steve Stephenson, Graphic Products, Inc.
At Graphic Products, the list of label and sign applications keeps getting longer. Supplies also undergo rigorous testing to ensure the labels you print provide the specified performance. Other popular labels offered by Graphic Products include OSHA, NFPA and RTK compliant labels in die-cut and print-ready rolls.
To request the free label samples, fill out a form located at http://www.duralabel.com/free-sample-label.php. Free samples are only available to companies with 20+ employees.
Graphic Products, Inc. began operations more than 40 years ago. With more than 50 unique labeling supplies providing the right label material for nearly any type of environment, a full family of printers for every application, a five-year vinyl supply warranty, free technical support and satisfied customers throughout the world, Graphic Products is equipped to solve unique problems in the industrial safety arena.
###