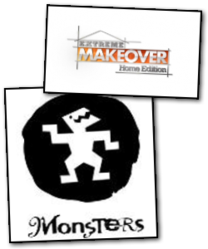 "This is an incredible show [Extreme Makeover Home Edition] that has influenced our business in many ways," said Andy Funk, founder & director of Monsters Dance Conventions.
Baltimore, MD (PRWEB) November 16, 2011
When one of Extreme Makeover Home Edition's family members mentioned that his dream is to become a professional dancer, show producers called upon one of the world's leading dance conventions, Monsters of HipHop.
Monsters of HipHop was created in 2003 by Towson University graduates and husband/wife team, Becky and Andy Funk. In just under eight years, Monsters has become one of the largest and most respected dance conventions, attracting thousands of dancers annually who travel from all over the world to train with and audition for the industry's top choreographers.
The day company founder Andy Funk received the email from a producer at ABC's Extreme Makeover Home Edition, it was an opportunity he had hoped would come for many years. "This is an incredible show that has influenced our business in many ways," said Funk. "We aspire to have a powerful and positive impact on our attendees and Extreme Makeover does this better than anyone!" he continued.
Monsters pulled together several of its resources to provide an unforgettably extreme experience for one family member, Brooks, who is benefiting from EMHE. Monsters arranged for celebrity choreographers Laura Edwards & Nick DeMoura to provide private dance lessons, also contributing a variety of clothing, shoes and more to outfit the recipient's attire & room. In addition, Brooks received a "Monster For Life" scholarship enabling him to attend Monsters Dance Conventions for unlimited dance training free forever!
A donation from the company was also made to the family's Delaware soup kitchen ministry, Jusst Sooup. The taping took place with dozens of supportive dancers at Monsters' Ellicott City, Maryland home-base,B.Funk Dance Company, also owned and operated by the Funks. "It was an incredible honor to be part of such an inspirational program and to welcome them into our studio and family," said Becky Funk.
This 2-hour Thanksgiving special of Extreme Makeover Home Edition is scheduled to air on Friday, November 18, 2011 at 8/7c on ABC. Monsters of HipHop will be hosting a special viewing party at their upcoming event the same weekend in Denver, CO at the DoubleTree by Hilton Hotel Denver Downtown.
Contact:
Andy Funk
Founder/Director
Monsters Dance Conventions
PH 888-566-6787 ex.3
EMAIL andy(at)monstersdance(dot)com
###