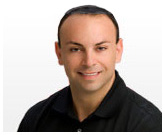 It is not enough to take steps which may some day lead to a goal; each step must be itself a goal and a step likewise. ~ Johann Wolfgang von Goethe
Chino Hills, CA (PRWEB) November 16, 2011
Chino Hills personal trainer and weight loss specialist, Dr. Sam Bakhtiar is today inviting weight watchers to come join the Fitness Concepts where they'll be able to shed unwanted fat and get toned.
"I guarantee you'll reach your fitness and weight loss goals with my program," said Dr. Sam Bakhtiar, who owns the Fitness Concepts personal training facility that's serves the Chino Hills and Inland Empire communities.
According to Chino Hills' weight loss specialist, his hand-picked team of personal trainers do not use generic fitness routines. Neither do they just "stand around" holding clip boards nor stand around checking themselves out in the mirror all day or go on and on telling clients about their personal lives during the workouts.
"We do one thing, and one thing only... and that is we get you into shape by using cutting edge workouts that have been proven by science to make you lose fat and get toned as fast and as safely as possible," said Dr. Bakhtiar.
"If you're like most people who want to lose fat and get into shape you probably feel like you don't have the time or motivation to get to your fitness goals on your own. I completely understand, and that's exactly why I have gone ahead and created several highly effective 30 minute workout routines. The workouts are short, fast-paced and fun, and they'll have you looking better and feeling better in no time," explained the Chino Hills personal trainer.
Want to be shaped up in less time than it takes to watch one's favourite television program? Then, Dr. Bakhtiar wants prospective clients to know that not everyone is the same, and as a result, their fitness and fat loss solutions are specific to individual weight watchers' goals, their body type and their life.
ABOUT FITNESS CONCEPTS
Fitness Concepts, founded on February 15, 1999 by Dr. Bakhtiar and Alejandra Font, is a personal training company consisting of many talented and caring individual trainers dedicated to get their prospective clients the maximum results through proper training, nutrition and supplementation. Bakhtiar and Alejandra believe in client education and long term client health and success, not unhealthy quick fix fad diets and programs that could be hazardous to our clients. Since then, the partners have helped 5,835 and counting clients improve their quality of their life. What do they mean by quality of life? Quality of life, for them, means when someone gets in better shape, not just physically, but also emotionally, spiritually, and financially.
For further information, please contact: Dr. Sam Bakhtiar, Owner, (909) 693-5303, or visit Fitness Concepts Personal Training at http://www.fitconcepts.com.
###