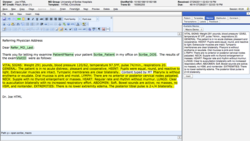 Lake Forest, IL (PRWEB) November 17, 2011
Scribe Healthcare Technologies, Inc., has broadened the applications of its fully integrated HTML Editor on its evolutionary transcription and editing platform. Traditionally, transcriptionists and medical personnel have relied on Microsoft Word or text editors to transcribe, edit and review dictated reports. Implementation of the HyperText Markup Language (HTML) Editor greatly expands their document creation and management options. Physicians can securely access and review their documents from virtually any location through a web browser on any mobile device or laptop with Internet connection. Document layout, composition and manipulation closely mimics MS Word, but alleviates the need to have MS Word installed on a local PC or remote server. "Transcriptionists can create structured documents without reliance on MS Word," said John Weiss, Vice President for Scribe. "Saving companies from expending resources on software installation and upgrades lowers operating costs and lessens support frustration."
Scribe's HTML Editor has the added feature of delivering SmartText, the ability to count template and macro content differently than content that is typed from scratch. Medical transcriptions frequently utilize templates and macros, which are common phrases dictated by healthcare providers. The ability to insert pre-defined text reduces the number of lines typed and can drastically decrease dictation time for physicians. The result allows hospitals and practices to achieve savings that can rival that of voice recognition.
Transcription companies typically bill per line of transcribed text. SmartText is classified and counted separately from original transcription. The technology provides customizable line counts for templates and macros, which can be billed at a significantly lower rate than standard transcription from scratch. By distinguishing this type of text that is pre-defined and populates automatically, transcription companies and their medical clients can greatly reduce transcription expenses and physician dictation time.
Regardless of the medical specialty or number of users, the library of templates, macros and pre-populated text is limitless with Scribe's HTML Editor. Since automatically populated text can be edited, accurate transcription is still delivered but at cost savings. Physicians can indicate their macros without dictating entire paragraphs or extensive verbiage. Transcription companies also realize productivity gains by lowering the amount of typing required per transcription and employing the technology to streamline their workflow. Scribe offers the functionality and opportunity to increase net profits without additional software installation, maintenance costs or upfront fees.
About Scribe Healthcare Technologies, Inc.
Scribe Healthcare Technologies, Inc. is a privately-held, healthcare technology company based in the Chicago, IL area. The company has developed a proprietary "Cloud-based" platform that centers on medical documentation solutions to deliver physician narrated content to the electronic medical record. Scribe's platform includes complete solutions for dictation, transcription, voice recognition, document management, healthcare information exchange, and reporting with data analytics. Scribe offerings include both computer and mobile solutions. Scribe serves more than 30,000 users. Business partners and resellers include consulting firms, transcription companies, and business process outsourcers. Additional information is available at http://www.scribe.com.
###