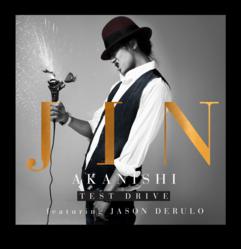 Jin Akanishi: The Takeover is now available on MYX TV.
Redwood City, CA (PRWEB) November 15, 2011
Top-selling Japanese vocalist, musician and actor, Jin Akanishi has taken the U.S. by storm. With his highly anticipated single, "Test Drive featuring Jason Derulo," which debuted this November and a movie role with Keanu Reeves, Akanishi embarks on the international road to stardom. He documents his journey to the top in the behind the scenes series of "Jin Akanishi: The Takeover," MYXclusives airing on MYX TV.
Akanishi is well-known for his unique talents, from dynamic vocals to songwriting to hip-hop dancing. As a former vocalist in a tremendously popular Japanese pop band, Akanishi set milestones with his original lyrics and energetic performances propelling the group's singles, albums and DVDs to #1 on the Japanese National Charts. Having achieved superstardom in Japan and throughout Asia, he is now taking his creative vision abroad to produce new music by merging his J-pop style with the U.S. music trends.
"Jin Akanishi's is one of Asia's biggest stars," says Miguel Santos, Associate General Manager of MYX TV. "We at MYX TV fully support his jump to the U.S. market and are confident our viewers will do the same."
Jin Akanishi: The Takeover is now available on MYX TV. Catch the episodes that tell the story of the Japanese pop star that is breaking international lines.
ABOUT MYX TV®:
MYX TV is the premier Asian American entertainment and lifestyle cable network in the United States. Dedicated to airing the best in entertainment, MYX TV's programming is a unique combination of original and syndicated shows, including magazine talk shows, interactive music video countdowns, independent film and Asian cinema, and animation, airing 24/7 in English. Broadcast in over 6 million households across the country it provides a platform for Asian Americans on mainstream television and is also represented on its official website by a community of bloggers from coast-to-coast. To find MYX TV in your area and for exclusive content online, visit http://www.myx.tv.
MEDIA ASSET:
Trailer: http://bit.ly/vVeBvu
###