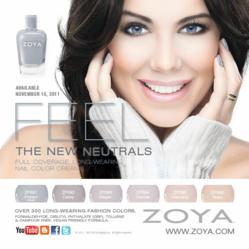 Zoya Nail Polish creates a new color category with it's Feel collection - winter cream neutrals
(PRWEB) November 16, 2011
Introducing the latest must-have nail colors for winter 2011/2012: The Feel Collection by Zoya - six new winter cream neutrals.
Feel Beautiful!
Every season the color experts at Zoya create dozens of new color collection options. This year, one of those "secret collections" just had to be seen now rather than later. The Zoya Feel Collection delivers six new, full coverage, neutral nail polish creams that are ideal for right now.
Feel Collection Colors...
Kristen (ZP591): gull gray cream.
Carey (ZP592): periwinkle gray cream.
Megan (ZP593): taupe gray cream.
Kendal (ZP594): rose quartz beige cream.
Kennedy (ZP595): pale french beige cream.
Avery (ZP596): blonde beige cream.
Neutral yes, but certainly not boring. This fresh collection of winter neutrals delivers highly pigmented color in a glossy, full coverage color in just two coats.
Zoya is the new color of fashion!
Vegan friendly, ultra long-wearing, glossy professional nail lacquers by Zoya are free of harmful industrial chemicals like toluene, camphor, formaldehyde, formaldehyde resins or dibutyl phthalate (DBP) that are known to cause cancer and birth defects.
The Zoya Feel collection and over 300 other long-wearing, vegan friendly, toxin free* Zoya Polishes and Treatments are available on zoya.com and in fine salons and spas. Ask for it by name.
Speaking of names - Did you know that each and every Zoya color is named for beautiful Women that inspire us? Use the Zoya.com search tool to see if we have a woman you know! Send Zoya color name suggestions to us via Facebook and Twitter. Use the hashtag #Zoyanamesuggestion
Zoya on Facebook: [http://www.facebook.com/ZoyaNailPolish
Zoya on Twitter: http://www.twitter.com/Zoya_NailPolish
Sug. Retail $8.00 per 0.5 fl.oz. bottle (US).
Available / Shipping November 15, 2011
on http://www.zoya.com
*All Zoya Nail Polishes and Treatments feature a formula that is completely free of toluene, camphor, formaldehyde, formaldehyde resins and dibutyl phthalate (DBP).
###