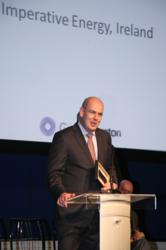 we have grown the company from very humble beginnings by finding synergies with longer established partners such as Schmid AG, our technology provider and Green Belt Ltd, our dedicated biomass supplier
(PRWEB UK) 16 November 2011
Imperative Energy Ltd, http://www.imperativeenergy.com a leading developer of BioEnergy Projects in the UK and Ireland, announced today it was named "Best of BioEnergy" by the Global Cleantech Cluster Association http://www.globalcleantech.org. Winning the GCCA Later Stage Award for BioEnergy demonstrates Imperative Energy Ltd's significant success in the growing cleantech industry and validates its innovative use of proven bioenergy technology in a range of new applications as a leader in the Renewable Energy sector. Imperative Energy Ltd was nominated for the GCCA Later Stage Award by GCCA Member Cluster, The Green Way (http://www.thegreenway.ie) in May 2011 and was shortlisted to the final 3 in this category at an event in Quebec in August.
"Our Top 10 winners are truly the best in class and are the companies to watch in the coming years," says Ben Taube, Chairman of the GCCA. "In each category, these companies are making both broad strides in their global industries as well as working closely with their regional cleantech clusters to build sustainable green economies and jobs. We are thrilled to name them the GCCA Global Top 10 for 2011."
Imperative Energy Ltd was the winner of the GCCA 2011 Later Stage Award for BioEnergy because of its success in building an investable business in the field of energy generation from sustainable biomass resources. The company has grown from a small base in Maynooth, Ireland to become a leading player in the sector in the UK and Ireland with plans to enter new markets in the near-term.
Receiving the award from Mr Pat Rabbitte, Irish Minister for Energy, Mr Joe O'Carroll, Managing Director of Imperative Energy Ltd paid tribute to those who have aided the success of his young, entrepreneurial company. "It is fitting that we are receiving this award from the Global Cleantech Cluster Association because Clusters are about building networks to ensure that the whole is greater than the sum of its parts. This is a key mantra at Imperative Energy Ltd and we have grown the company from very humble beginnings by finding synergies with longer established partners such as Schmid AG, our technology provider and Green Belt Ltd, our dedicated biomass supplier. This allows us to build our entrepreneurial and innovative project development approach on the rock solid foundation of their long standing success".
The GCCA Later Stage Award Top 10 winners were selected from an original pool of 4000 eligible companies represented by the GCCA's 33 member clusters. Each cluster conducted internal evaluations to nominate up to 10 companies in the 10 award categories. In total, these member clusters nominated 185 companies for the 2011 Later Stage Award. That number was later narrowed to the Global Top 30 semi-finalists and to the final Top 10 winners. Head Judge Dr. Peter Adriaens of the University of Michigan and CleanTech Acceleration Partners lead the evaluation and judging process along with 28 leading venture capital investors and cleantech serial entrepreneurs. http://www.globalcleantech.org/awards/judges/.
"These are truly the best of the best for 2011," said Shawn Lesser, co-founder of the GCCA. "The selection process was rigorous and I am proud to say these awards highlight some of cleantech's strongest stories and greatest successes."
The 2011 Later Stage Award is sponsored by Grant Thornton International. A full list of all the GCCA Later Stage Award 2011 Global Top 10 winners can be found at the GCCA website at: http://www.globalcleantech.org/awards/2011-winners/
About Imperative Energy Ltd
Imperative Energy Ltd is a leading supplier of bioenergy solutions (heat, steam and power) to clients in the commercial, public and industrial sectors through purposely built low carbon energy centres at the client's site. It offer a full turnkey service to clients covering feasibility, design, fuel supply (wood chip, wood pellets, post-consumer waste wood), equipment supply, finance, installation, operation and maintenance.
Its long-term energy contracting (ESCo) model delivers carbon and cost savings to clients without passing any technology or fuel supply risk to the client. The savings are guaranteed over long-term contracts of 10-25 years.
About the Global Cleantech Cluster Association
The Global Cleantech Cluster Association creates conduits for companies to harness the tremendous benefits of international cleantech cluster collaboration in an efficient, affordable, and structured way. Global Cleantech provides a gateway for established and emerging cleantech companies to gain exposure to potential investors, new markets, influential networks, innovative technologies and best practices. GCCA was founded by swisscleantech, the Finnish Cleantech Cluster, and Watershed Capital Group. The GCCA Later Stage Award is sponsored by Grant Thornton International. For more information about Global Cleantech, please visit http://www.globalcleantech.org.
###