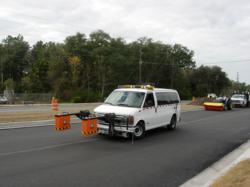 Arlington, MA (PRWEB) November 16, 2011
Infrasense, Inc. has recently introduced a system for measuring asphalt pavement density using ground-penetrating radar (GPR). Achieving the target density for a pavement is particularly important; if the pavement is compacted beyond its target density, it will be unable to accommodate thermal expansion and may become unstable, but if the pavement is not compacted enough, voids will allow air and moisture infiltrate and damage the pavement. Moisture can cause the asphalt binder to debond from the aggregate, significantly reducing the pavement durability and lifespan. Because the pavement density is a key design element, it is monitored as a measure of Quality Control and Quality Assurance (QC/QA) of new pavement construction projects. Traditionally, density has been measured using cores that damage the newly constructed pavement, or with nuclear density gauges that require special licensing and training that incur additional costs. The GPR-based system developed by Infrasense provides complete nondestructive coverage of the entire pavement.
Infrasense's GPR system for pavement density measurement consists of two air-coupled radar antennas mounted to a survey vehicle. The GPR data is collected in a series of lines spaced 2 feet transversely across the width of the pavement, with each line representing a cross sectional slice of the pavement at a particular offset. Infrasense modified the antenna settings to enhance the resolution of the data at shallow (approximately 7.5 inches) depths and to collect data more frequently than traditional GPR surveys. In order to assess the pavement on-site, Infrasense developed automated processing software that produces color contour maps of the asphalt surface dielectrics obtained from the GPR survey. By analyzing these maps on-site for stronger and weaker dielectrics, cores can be taken at optimum locations for calibration.
Infrasense collaborated with the Florida Department of Transportation (FDOT) to conduct a study using the GPR-based density measurement system. The purpose of this study was to determine whether GPR-based data collected for post-construction hot mix asphalts (HMA) could be correlated to density measurements obtained from cores with a level of accuracy equal to or exceeding nuclear-based testing methods. Field trial testing was performed at a four-lane paving project closed to traffic, and four sections were selected for surveying during the placement of the next layer of asphalt pavement. Coring was performed at locations chosen using the automated processing contour maps, and samples were tested in the FDOT laboratory to obtain density measurements. The results of the study validated the use of GPR as a QC/QA tool in pavement construction projects, showing an average of 80% correlation between GPR and core-measured densities. The correlation rose to 98% at select locations where coring was performed shortly after the GPR survey, mitigating the effect of time delays and temperature changes in the pavement.
About Infrasense, Inc.
Since 1987, Infrasense, Inc. has applied the latest technologies to the most difficult challenges in subsurface scanning. Infrasense's engineers are able to nondestructively extract critical information from a diverse range of structures. The firm has conducted research to advance the field of subsurface detection, while also providing valuable information to clients across the country. Learn more about Infrasense, Inc. and its services at http://www.infrasense.com.
###