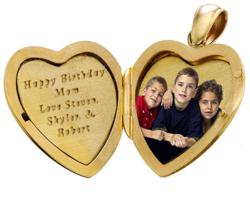 This photo laser process is 100% waterproof and scratch proof, takes the guesswork out of searching for a place to shrink down your photo. PicturesOnGold does it for you.
(PRWEB) November 15, 2011
Picture yourself as a fashion designer creating unique locket and pendant jewelry. Today you can express your inner artistic talent to create a one of a kind locket or pendant envisioned to capture the admiration of your family, friends, and business associates at http://PicturesOnGold.com using the "interactive locket designer" computer technology tool feature on the PicturesOnGold.com website at Locket Designer.
As stated by Daniel Schifter, CEO of PicturesOnGold.com, "The Christmas, Hanukkah, and New Year Holidays are fast approaching, and here is your opportunity to design your own distinctive personalized locket or pendant piece of jewelry on-line at PicturesOnGold.com to express your love, remember a loved one or pet, or cherish a favorite moment in your life"
Customers can add a personalized engraved message, monogram, birthstone, and or choose how the outside of the customized photo locket will look by selecting from hundreds of clipart images that can be engraved. One of the most popular and exclusive featured offered is that PicturesOnGold.com will add the photo inside the locket for you. The selection of either a traditional paper printed photo or a permanent laser photo that is 100% water and scratch proof are the options. The website makes it easy to upload, email, or even mail in the photos if you don't have a digital version. " This photo laser process is 100% waterproof and scratch proof, we take the guesswork out of searching for a place to shrink your photo within the lockets; we do it for you and also digitally enhance the photos to fit perfectly inside the locket. The amazing part is that we ship them the next business day, customized and all.", said Mr. Schifter
You will bedazzle your loved ones. It is an effortless process, and you can see the finished product right in front of your eyes. You'll know before your make the purchase exactly how your personalized locket will look. "PicturesOnGold.com prides itself on producing quality, and innovative locket jewelry designed to last", said Mr. Schifter.
The personalized lockets are featured in a variety of shapes and sizes. You can choose a heart, round, or oval style locket in 14K Gold, Sterling Silver, White Gold, or Platinum. Prices start at just $29.99 in Sterling Silver and under $200 in 14k Gold. "Mommy Bloggers" from all all over the country are doing reviews on the personalized laser lockets, they are very pleased with the quality of the lockets and pendants; they find the photos, and engraving is clear, and adds a special touch.
Don't miss this opportunity to delight the significant people in your life for that special occasion.
PicturesOnGold.com has been manufacturing jewelry since 1998 for the jewelry industry throughout the world. 95% of the work is done directly in their factory. The website was created in 2005 and has some other unique products like Photo Jewelry, Lockets, Medical Id Jewelry, Custom Sports Jewelry, Religious Medals and more.
###