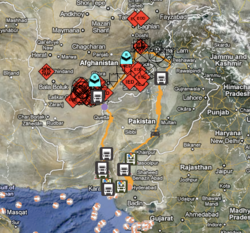 Consistent symbology, combined with the ability to present dynamic views of military operations, can provide a common operational picture to all levels, from military planners to warfighters.
Alexandria, VA (PRWEB) November 17, 2011
Today, ObjectFX announced the newest release of its Symbology Server™―now compatible with the latest Military Standard (MIL-STD) 2525C symbology in addition to its existing 2525B symbol database overlay. Currently deployed in multiple fielded programs, ObjectFX's Symbology Server is a complete, scalable and flexible implementation of MIL-STD 2525 and DHS Symbology. Symbols are provided as a web-service to users, allowing any network-connected client to request symbols and integrate them with their display.
Prior to the release of the 2525C module, Symbology Server was originally created as a response to the U.S. Defense Information Systems Agency's Military Standard 2525 program, which helps ensure that all branches of the military, as well as related agencies and private sector activities, share a common symbology. This commonality is a critical part of any military command, control and intelligence system needing to display real-time information in a clear and unambiguous way.
"Consistent symbol hierarchy and identifiers, combined with the ability to present dynamic views of military operations, can provide a common operational picture to all levels, from military planners to warfighters," stated David Hemphill, ObjectFX's chief technology officer for geospatial solutions. "Foreseeable applications of the new MIL-STD 2525C symbology module, when connected with a visualization client, such as SpatialFX®, include situational awareness; threat visualization and integration; blue force tracking; planning and analysis; command, control and intelligence; multi-source intelligence fusion; and historical review."
With this latest release, Symbology Server now provides support for appendices of MIL-STD 2525B and 2525C, including units, equipment and installations; military operations; naval meteorology and oceanography; signals intelligence; military operations other than war; and stability operations symbology. It allows for an accurate, high performance rendering of tactical symbols and graphics that are based on symbol codes specific in MIL-STD 2525 and DHS symbology.
Symbology Server users now have the ability to customize symbol size and fill (e.g., pattern, color) in addition to the provided symbol databases. Symbol caching can be pre-configured to cache most the most frequently used symbols. This capability transparently stores data, allowing for faster data requests and better overall system performance.
For more information on Symbology Server, visit http://www.objectfx.com/products/symbology-server.html.
About ObjectFX LLC
ObjectFX LLC delivers geospatial solutions to leverage the value of dynamic spatial and temporal data in gathering intelligence, managing risk, and monitoring and improving operations. These solutions allow clients to respond more quickly to changing conditions in their operating and risk environments. ObjectFX employs a team of skilled consultants and developers with multiple levels of security clearances. This team assists customers in designing, implementing, and managing ObjectFX solutions and providing outcomes-focused intelligence and risk consulting services. ObjectFX products and services are a foundation or complementary technology for a wide range of applications used across multiple vertical industries and organizations. Representative customers include Boeing, General Dynamics, SAIC and United Airlines. ObjectFX has offices in Minneapolis, Minnesota, and Alexandria, Virginia, and is a Service-Disabled Veteran-Owned Small Business.
For more information on ObjectFX LLC, please visit http://www.ObjectFX.com.
# # #