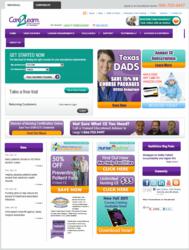 Winning an award like this is a great honor and shows that our hard work is definitely paying off." – Scott Roan, Vice President of Information Technology for Care2Learn
Tampa, FL (PRWEB) November 16, 2011
Care2Learn, the leader in online healthcare CE and training solutions for the post-acute care industry, was among nearly 1,200 applicants competing for 13 different award categories in this year's Strategic Health Care Communications eHealthcare Leadership Awards. Winner of the Gold Award for Best Overall Internet Site, Care2Learn was recognized along with other winners earlier this month at the 15th Annual Healthcare Internet Conference in Orlando, Florida.
The award for Best Overall Internet Site considers several factors, including: "delivery of strong health content, interactivity, medical care support, integration with the organization's operations, as well as strength of Web design and ease of navigation". Entries were evaluated by more than 100 individuals with expertise in both healthcare and Internet design and functionality.
"It's always difficult to really know when you have a solid web site design," says Scott Roan, Vice President of Information Technology for Care2Learn. "We do our best to track usage, and we look at feedback from our clients and prospects to gauge whether or not they're able to find what they need and if they feel the site is aesthetically pleasing. Still, even with all the internal measurements you're always wondering if you're getting it right, so winning an award like this is a great honor and shows that our hard work is definitely paying off."
According to Strategic Health Care, the eHealthcare Leadership Awards program recognizes the very best Web sites of healthcare organizations (both large and small), online health companies, pharmaceutical/medical equipment firms, suppliers, and business improvement initiatives, highlighting the Internet's role in achieving an organization's business objectives and the hard work that goes into creating outstanding health Web sites.
Through their industry-leading healthcare Learning Management System, Care2Learn delivers premier online healthcare CE and training solutions for the post-acute care market to ensure optimal patient care in skilled nursing facilities, senior care environments, rehabilitation centers, and home health and hospice facilities. Home to the largest online course library in the industry, the LMS combines the latest eLearning technology and innovative design features with convenient 24/7 access, full reporting, and live client support available seven days a week.
About Care2Learn
Founded in 2000, Care2Learn provides online healthcare CE for the post-acute care industry. The Care2Learn course library includes more than 2,700 hours of CE and inservices accredited by more than 70 state and national organizations and delivered to over 320,000 healthcare professionals in all 50 states. Acquired by RedVector, the leading online CE provider for the design, engineering, and construction industries, Care2Learn continues to grow by offering customized online eLearning universities to companies wishing to offer training and education solutions to their entire staff in a cost-effective, easy-to-use, and readily accessible manner. For further information, call 1-866-703-9418 or visit http://www.Care2Learn.com.
###