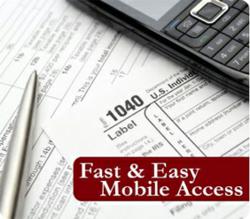 Royal Oak, Michigan (PRWEB) November 16, 2011
Tarnavsky Tax Firm PLLC presents new Fast & Easy Mobile Access for all tax services. This new system provides immediate attorney access for people in need of tax services ranging from tax return preparation to IRS tax relief services. Fast & Easy Mobile Access allows tax services to be completed via email, telephone or smartphone.
There are many online sources for tax services, but Tarnavsky Tax Firm offers something more. "It's different than other online tax methods you see, because you get personalized attention from an attorney immediately," says Owner Paul Tarnavsky. Furthermore, most online tax websites only take care of filing returns. Tarnavsky's Fast & Easy Mobile Access offers a wide range of services, including preparing and filing returns, but also innocent spouse relief, private business taxes and audit proceedings.
Filing taxes can get complicated and confusing. From individual to business taxes, there is a lot of work involved. People often run into tax problems when their paperwork isn't filed correctly. Tarnavsky Tax Firm's Fast & Easy Mobile Access takes care of the paperwork and the stress of dealing with the IRS.
"We take care of paper work for our clients," said Tarnavsky, "all we need are expenses, if that applies." Tarnavsky also mentioned that it has been a relief to his clients when they realize they are speaking with an actual tax attorney on their first phone call. "We provide our clients with an attorney directly, every time."
With these new technological developments, Tarnavsky Tax Firm is able to help clients locally and nationwide. "We help people from all over the country with their tax issues, and we don't stop there," says Tarnavsky. "Our Fast & Easy Mobile Access gives our clients the convenience they want and the personal attention they need."
Tarnavsky Tax Firm's Fast & Easy Mobile Access system offers the relief and convenience that everyone can appreciate. "A client can literally be out of town on business and send us the paperwork via fax, email or smart phone, we'll receive it and handle it from there," says Tarnavsky.
Tarnavsky Tax firm takes pride in being available to help clientele when they need it the most, which includes weekends and evenings. It's this dedication to customer service that gives Tarnavsky Tax Firm its stellar reputation.
Links ---
http://www.thetaxlawman.com
###