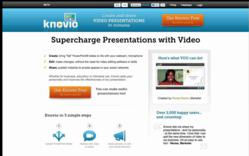 Knovio is the marriage of two of the most important communications media in business: the business presentation and online video.
Concord, Massachusetts (PRWEB) November 16, 2011
KnowledgeVision Systems has introduced Knovio™, a simple, easy-to-use Internet service for creating and sharing online video presentations with nothing more than a webcam, a Microsoft® PowerPoint® file, and an Internet-connected computer.
Built on the powerful KnowledgeVision technology for synchronized video presentations, Knovio is a free online tool that will let anyone make and share simple KnowledgeVision video and audio presentations.
"Knovio is the marriage of two of the most important communications media in business: the business presentation and online video," noted Michael Kolowich, KnowledgeVision's founder and CEO. "Our team has created a very simple way to pitch ideas, explain concepts, share knowledge and sell products—putting a new face on business communications."
New Sharing Capabilities
Knovio makes it easy to share presentations via email and social media, including Twitter, Facebook, LinkedIn, Google+ and in a new location called Private Spaces. In Private Spaces, which are created and managed by Knovio users, presentations can be grouped for viewing, feedback and collaboration with colleagues and friends.
For example, a user could create an online video presentation with Knovio, then share it with her team and collaborate with them to improve it. Once the user is satisfied, she can invite more people from other areas of the company to view the presentation.
Extending the KnowledgeVision Toolkit
Knovio expands KnowledgeVision's collection of tools for creating online presentations. "We built our company's reputation around KVStudio, a powerful toolkit for online content professionals; and those high-end features continue to expand," said Kolowich. "Now, Knovio brings KnowledgeVision capabilities to everyone in business."
Unlimited Use for Free
Knovio will be free for unlimited use during a beta test period, and the company expects a basic version of Knovio to be free indefinitely. An advanced-capability version of Knovio will be offered on a subscription basis.
Simple, Quick Creation Process
"Our objective with Knovio was to make it possible to easily create online video presentations—with no professional video production skills," said Matt Kaplan, KnowledgeVision's vice president of product management. "In less than five minutes, anyone can create a three-minute video presentation. And it takes just four simple steps to create and share your new Knovio video presentation."
The four steps for creating and sharing a video presentation in Knovio are:
1. Upload a PowerPoint presentation;
2. Point your webcam, press RECORD, talk, press STOP;
3. Choose where you'd like to share it: by email, on social media or in collaborative Private Spaces; and
4. Receive notifications as soon as your emailed presentations are viewed.
User-driven Product Development
Knovio was tested by more than 2,200 users worldwide during a private beta period that began in July. "Many of Knovio's innovative features were developed in direct response to the input of these early testers," Kaplan said. "It's a great example of user-driven product and customer development."
The Knovio team will be releasing additional creation, sharing and tracking features continuously throughout the beta period.
Knovio-produced presentations may be viewed on any Adobe® Flash®-enabled computer or mobile device.
Knovio is available immediately for free, unlimited use at http://www.knovio.com.
About KnowledgeVision
KnowledgeVision is single-mindedly focused on making online video work harder:
● to make it perform better as a content marketing tool;
● to make it more impactful as a sales tool;
● to make it more engaging as a learning tool; and
● to make it more effective as a corporate communications tool.
Clients all over the world use KnowledgeVision's tools—KVStudio and Knovio—to create orchestrated online video and audio presentations that combine their best communicators with PowerPoint slides, web pages and applications and supplemental material, and make them available from web browsers and mobile devices anytime, anywhere. KnowledgeVision is a venture-backed company based in Concord, Massachusetts.
###