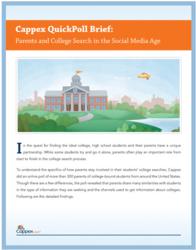 Highland Park, IL (PRWEB) November 16, 2011
A new Cappex.com poll of more than 300 parents of college-bound students shows that, rather than students driving the college search, nearly half of the time it's their parents who are doing the research on schools.
In the Cappex QuickPoll, 43 percent of parents said they drive the college research process, and 29 percent say that they also make the major decisions about where to go to college.
The poll also shows that two-thirds of parents want to stay informed, specifically with schedule and deadline information, by the colleges that are reaching out to their student.
''College search can be one of the most challenging decision processes a family goes through," said Chris Long, president of Cappex. "At Cappex, we aim to simplify the process by helping students and their parents see which colleges may be a good fit, and by providing scholarship matches to help them pay for school."
With the economy still ailing, more than 85 percent of parents who answered the poll said their biggest concerns are paying for college and finding scholarships, though 70 percent said finding a college that's a good fit for their student is important.
A detailed brief summarizing the poll can be found at http://bit.ly/ucD7bT
About Cappex.com
Cappex.com is a comprehensive college search and scholarship portal that helps students and parents make college decisions. In addition to more than 3,000 college profiles with student reviews and college admission prediction tools like the What Are My Chances® Calculator, Cappex.com also allows parents and students to find their match from thousands of scholarships offered by companies and organizations around the U.S. Cappex also provides $11 billion in scholarships offered by the colleges themselves. With more than 3 million student users, Cappex.com is the trusted source to help students find their ideal college fit, and where hundreds of colleges from across the U.S. and beyond go to connect with prospective students.
###