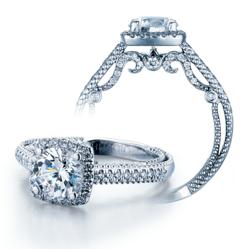 This is the perfect time to give away a Verragio Engagement ring to one of our loyal fans.
New York, NY (PRWEB) November 17, 2011
Verragio, renowned for creating engagement ring and wedding band designs that are unlike any other ring, is celebrating reaching 700K Fans on Facebook by offering each of them the opportunity to enter a new sweepstakes to win a Verragio engagement ring. Verragio's newest sweepstakes allows the entrants the possibility of winning simply by selecting their favorite of three Verragio engagement rings. The sweepstakes will run from November 15th and end at 3pm EST on Friday, November 25th.
"With the holiday season approaching, this is the perfect time to give away a Verragio engagement ring to one of our loyal fans," says Barry Verragio. "From the intricate lace design of Verragio's Venetian Collection of engagement rings, to the new profile of the Insignia engagement rings and wedding bands, each engagement ring up for the giveaway will feature Verragio's distinctive flair for style."
To become eligible for Verragio's engagement ring giveaway, you must become a Fan of Verragio on Facebook. Specific rules of the contest are currently posted on Verragio's Fan Page. One winner will be selected based on the rules of voting and announced on the official Verragio Fan Page at the close of the sweepstakes.
Verragio specializes in engagement rings and wedding bands of the highest quality and beauty. Verragio is the creator of the Lumino Setting, a revolutionary setting technique that reveals all sides of a diamond, opening up every facet to light. Available in platinum and gold, Verragio offers designer engagement rings, wedding bands, men's wedding bands and eternity bands that can be seen only in carefully selected, authorized retail establishments.
###