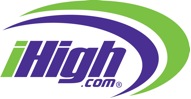 Lexington, KY (PRWEB) November 15, 2011
National nonprofit working for broadband expansion joins forces with nation's top website featuring youth sports.
Youth sports are often the common bond that unites communities and families. Bowling Green-based Connected Nation is proud to announce a partnership with Lexington-based iHigh.com– a company that strengthens those bonds through the innovative use of broadband.
"We are very excited to partner with Connected Nation and its mission of changing communities through the use of broadband," said Jim Host, chairman and CEO of iHigh.com. "By combining Connected Nation's leading grassroots approach to technology expansion and the iHigh platform, we can provide greater opportunities for schools to promote their student activities and grow communities online."
Scott Guttery, business & technology, leadership development teacher, and boys' basketball and bowling coach of Fort Myers (Fla.) High School, is one of the first to praise this new partnership: "iHigh.com will totally change our program. Fans and relatives of players can watch the games all over the country. This will change the way our players are recruited. College coaches can watch our games live or in an archived broadcast. The company provides an amazing opportunity for high school programs to gain valuable exposure and recognition. Connected Nation has helped make the initial set-up process go smoothly. They will not stop working until everything is ready to go. The customer service is outstanding and the ihigh.com team works hard to make each broadcast successful. Best of all, it is a free service."
"Connected Nation is proud to partner with the nation's leading website for youth activities. The missions of Connected Nation and iHigh.com present the opportunity for a natural partnership to get more citizens connected online," said Connected Nation CEO Brian Mefford. "We work to improve lives through broadband. In this partnership we are excited to make a positive impact by helping grandparents watch their grandchildren play their first games, colleges recruit prospective athletes, and fans support their teams from anywhere in the world."
Connected Nation is a leading national nonprofit that works to enable people through technology expansion. iHigh.com's mission fits ideally with the efforts of Connected Nation by providing free, web streaming of sports and academic activities to local high schools. The two companies are uniting efforts to educate schools on the benefits of broadband technology and to provide free, live broadcasts of their team sports and activities online.
iHigh.com provides schools, colleges, and other youth-related organizations with free web tools and video streaming. Students, coaches, alumni, boosters, and other supporters can easily connect with other athletes and teams at a local, state, and national level. iHigh.com is the No. 1 website in the country with live streaming of youth activities with more than 6,600 active schools and 24,000 users from the US and around the world.
Fort Myers High School, one of the largest schools in Florida, is using iHigh.com to broadcast its 2011-2012 boys' basketball season. Today for the first time, fans, family, and college recruiters can capture the Pre-Season Tip-off Classic vs. Coral Gables LIVE here: http://www.ihigh.com/fmhs/index.html. The game starts at 7:30 p.m. EST.
About Connected Nation: Connected Nation is a leading technology organization committed to bringing affordable high-speed Internet and broadband-enabled resources to all Americans. Connected Nation effectively raises the awareness of the value of broadband and related technologies by developing coalitions of influencers and enablers for improving technology access, adoption, and use. Connected Nation works with consumers, community leaders, states, technology providers and foundations, including the Bill & Melinda Gates Foundation, to develop and implement technology expansion programs with core competencies centered on a mission to improve digital inclusion for people and places previously underserved or overlooked. http://www.connectednation.org.
About iHigh.com: iHigh.com, Inc. is a Global Youth Network providing free Web services to schools, students and other youth organizations around the world. iHigh.com provides free Web tools that allow sports teams and other groups to post live streaming video, stories, photos, video clips, schedules and other information to a page customized with a group's colors and logos. For more information, go to http://www.iHigh.com.
###