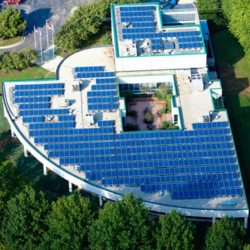 American Fork, UT (PRWEB) November 16, 2011
Converting solar energy to usable power is great, but not if installing the system is going to make your roof leak or your panels blow away. Since there's more to a solar energy system than just those shiny rectangles you see on a roof, BITHenergy in Maryland turned to TRA-MAGE for a uniquely engineered solar mounting system, completed in October 2011.
Warren Woo of BITHenergy needed to mount 3000 solar panels that would produce 670 kilowatts of energy, on Chimes International, LTC - a non-profit corporation in Baltimore that assists people with developmental disabilities, mental illness and other specialized needs.
BITHenergy got the ideal solar panel mounting system with ballasted and ground mount solar racking designs from TRA-MAGE, Inc. in American Fork, Utah. Engineer, Jeremiah Webb, and Solar Mounting Specialist, Curtis Welsch, began in January 2011 to engineer various layout designs, basing the final layout on engineering specific to this project. That individual project engineering as well as reasonable cost proved to be big factors in TRA-MAGE and BITHenergy's successful collaboration.
Welsch said, "There was a lot of time spent on this project by Jeremiah and myself. We engineered it about five times, and worked closely with BITHenergy's engineering firm. We gave them different ideas on the layout and as we worked together we came up with the final layout that was the best one for their unique situation. And the engineering service did not cost them a penny."
TRA-MAGE, Inc. is distinctive in their approach to each project, giving customers large and small the same attention and engineering expertise on each solar mounting system. Contact Curtis Welsch if you want an engineered design that you know will work.
ABOUT
"T.R.A.-MAGE, Inc., located in American Fork, Utah, manufactures engineered roof accessory systems. They produce solar mounting systems for both photovoltaic and thermal applications and roof snow retention systems including snow guards and snow fences. Both snow and solar product lines are easily installed on nearly any style of roof or roofing material. T.R.A.- MAGE - the engineering makes all the difference."
###