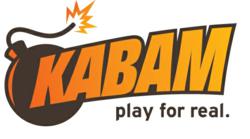 Redwood City, CA (PRWEB) November 16, 2011
Kabam™, a leading developer of hardcore social games, today announced the release of new pre-paid Kabam Game Cards at GameStop and Best Buy nationwide. All Kabam games are free to play online, but the game cards allow players to purchase powerful in-game items for any Kabam title, including IGN "Reader's Choice Facebook Game of 2010" Kingdoms of Camelot®, without requiring a credit card. As a bonus, each Kabam Game Card rewards players with a mystery item.
Kabam Game Cards, which are available in $25 and $50 denominations, can be redeemed for in-game currency. Players use this currency to purchase in-game items that speed up progress, gain new powers, or unlock hard-to-find items in Kabam games Kingdoms of Camelot®, Dragons of Atlantis™, The Godfather: Five Families, Edgeworld™, Global Warfare™, and Glory of Rome™. The Game Cards can be applied to any Kabam title on Facebook, as well those titles also available on Kabam's website http://www.kabam.com.
"The introduction of Kabam Game Cards is an important step forward in our continuous search for new and better ways to serve our audience of core gamers," said Chris Carvalho, Chief Operating Officer of Kabam. "The availability of pre-paid Kabam Game Cards at these two leading game retailers validates the rise of hardcore social gaming as a mainstream activity and allows more players to enrich their game experience with powerful in-game items."
Kabam titles combine the deep, immersive gameplay of MMO strategy games with the connectivity of social games. The pre-paid game cards allow core game players without access to credit cards or bank accounts to enhance their Kabam game experience at more than 4,600 GameStop and 1,100 Best Buy storefront locations across the US. The added flexibility of purchasing in-game items at retail with cash reduces barriers for players who wish to expand their gameplay experience. The Kabam Game Cards can also be purchased as gifts, tapping into an increasingly popular holiday practice.
"Kabam Game Cards will make great holiday purchases for Best Buy and GameStop customers shopping for the hardcore social gamer on their list," said Carvalho. "The extra incentive of special bonus items above the cash value of the card gives customers something they can't get anywhere else."
For more information about Kabam Game Cards, visit our site at https://www.kabam.com/gamecards.
For more information on Kabam, visit our official site at http://www.kabam.com, and also our Facebook page at http://www.facebook.com/kabam.
About Kabam
Kabam is leading the next wave of gaming—hardcore social games. The company's studios focus on combining the best elements of traditional and social gaming to appeal to a growing audience of gamers looking for highly immersive social games. The first wave of Kabam's new games for Facebook and leading media sites, including IGN "Reader's Choice Facebook Game of 2010" Kingdoms of Camelot®, have been widely recognized for their depth of play and social interaction. Founded in 2006, Kabam has offices in San Francisco and Redwood City, Calif., Beijing, China, and Luxembourg. More information about Kabam can be found at http://www.kabam.com.
All trademarks or registered trademarks are property of their respective owners.
Contact:
Anne Marie Stein | Jeane Wong
ONE PR Studio (for Kabam)
510-893-3271
annemarie(at)oneprstudio(dot)com | jeane(at)oneprstudio(dot)com
###