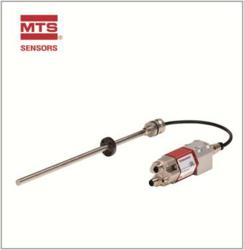 (PRWEB) November 16, 2011
MTS Systems Corp., Sensors Division has introduced a detached electronics housing system for use with Temposonics® R-Series Sensors. R-Series sensors are used in industrial manufacturing applications where accurate measurement and low maintenance are critical. The R-Series Model RD4 is a housing style that allows the electronics to be removed from harsh environments where they may be damaged by temperature, shock, vibration or other conditions. In addition to the detached housing style of the RD4, MTS Sensors also offers a rod-style (RH), profile-style (RP) and flexible style (RF) housing style for all of the R-Series output types.
"The detached electronics of the R-Series Model RD4 provide some unique advantages in manufacturing facilities where these conditions exist," Matt Hankinson, technical marketing manager, MTS Sensors, explained. "The sensing elements themselves are highly resilient and, since they are non-contact, require little to no maintenance. The electronics, however, can be more sensitive to harshest environments. By detaching the electronics, we give customers a way to further expand the already wide range of operating specifications that they couldn't with more traditional solutions."
The detached electronics housing model is available with all of the Temposonics® R-Series advanced output protocols, including Synchronous Serial Output (SSI), EtherNet/IP, Profibus, CANbus, DeviceNet, EtherCAT and analog. Early adopters of the detached electronics system include MTS Sensors' customers in the fluid power, steel production, woodworking, linear actuators and similar industries.
"We are very happy with the reception this product launch has received among customers," Hankinson said.
The R-Series Model RD4 sensor also allows for greater design flexibility, making it easier to install smaller sensing element housing in tight spaces such as clevis mount cylinders.
For more information, please contact: MTS Systems Corp, Sensors Division, 3001 Sheldon Drive, Cary, NC 27513. Phone: (919) 677-0100. E-mail: info(at)mtssensors(dot)com or visit their web site at http://www.mtssensors.com.
MTS Sensors, a division of MTS Systems Corp., is the global leader in the development and production of magnetostrictive linear-position and liquid-level sensors. The Sensors Division is continually developing new ways to apply magnetostrictive sensing technology to solve critical applications in a variety of markets around the world. With facilities in the U.S., Germany, Japan and China, MTS Sensors Division is an ISO 9001-2008 certified supplier committed to providing worldwide innovative sensing solutions.
###