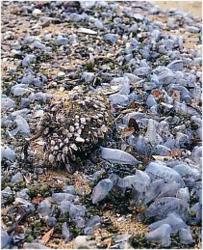 Like the Prodigal son..Portuguese Man o War return to south Florida every year
Miami, FL (PRWEB) November 17, 2011
Each invader, in fact, isn't an "it" but a "they" — a colony of organisms that combine to create a single entity, the Portuguese man-of-war. The seafaring wanderer with the neon-blue gas bag and tentacles as long as 30 feet seems more suited to a science fiction horror flick than a sunny tourist beach. But in Florida, its appearance is a yearly, if painful, ritual. The man-of-war visits every winter and early spring, driven onshore by southeasterly winds and the Gulf Stream's current.
After years of research and field tests, Ocean Care Solutions has developed for release their new, effective, medically supported Portuguese Man o' War First Aid Kit. Never before available on the consumer retail market, the team at Ocean Care took years researching medical studies, international medical journals, marine science research findings and consulted with well respect medical authorities on marine stings to determine the most effective first aid treatment and protocol for the Man o War injury. The kit has all the components to provide immediate pain relief including simple to follow instructions included in their durable, water tight, distinctive gold foil pouch.
The Man o' War wash ashore along the northern Gulf of Mexico and east and west coasts of Florida. Strong onshore winds may drive them into bays or onto beaches. It is rare for only a single Portuguese Man o' War to be found; the discovery of one usually indicates the presence of many as they are usually congregated by currents and winds into groups of thousands. Men o' War typically travel in groups of 1,000 or more individuals
Often called a jellyfish and differentiated between the Pacific Blue Bottle, the Atlantic Portuguese Man o War is the larger of the species and, like its cousin, is a colony composed of many individual polyps and so is a colonial organism. The functions they serve are broadly analogous to organ systems, and they're interdependent to the point that they can't live independently. The Man o' War are infamous for their very painful, powerful sting and can cause serious effects, including fever, shock, and interference with heart and lung action.
Ocean Care solutions Man o' War kit provides comprehensive medical pain relief protocol to address the Man o War sting but the company cautions anyone having suffered an injury from this animal to seek medical attention immediately because of the serious nature of this marine sting injury.
Ocean Care Solutions continues to expand their line of medically supported marine sting first aid kits including the Man o' War, Stingray, Sea Urchin, Fire Coral and their specially formulated jellyfish sting relief solution with 5% acetic acid. Doctor and medical facility recommended, Ocean Care Solutions is bringing marine sting solutions to the consumer.
###