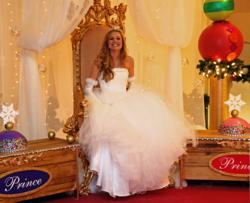 Whatever you're wishing for this holiday, Platte County, Missouri has it all: shopping, dining and events for everyone!
Kansas City, Missouri (PRWEB) November 17, 2011
Brother is excitedly counting the days until the Pajama Party with Santa. Aunt Cindy's sneakers and shopping list are ready for the stroke of midnight on Thanksgiving. Mom just purchased tickets for the holiday candlelight tour of historic homes. Sister glows with sugarplum thoughts of meeting the holiday Fairy Princess. Dad looks forward to sipping a glass (or two) of locally hand-crafted Missouri wines. And Grandma's calendar has a bright yellow star next to Christmas on The River: An Old Towne Holiday celebration.
The entire family will find what they're wishing for this holiday season in Platte County, Missouri! Just an easy sleigh ride from anywhere in the Midwest, visitors are invited to come spend a day or a weekend in Kansas City's "Northland" and enjoy shopping, dining and special events sure to make their holidays memorable. Located in the northwest corner of the Kansas City metropolitan area along I-29, Platte County has everything: quaint river towns, Kansas City's premier shopping and dining, daytime and nighttime entertainment, and abundant holiday activities for the entire family.
MISSOURI WINES
Sample some of the best wines along the Missouri River at Jowler Creek Winery's Santa's Sipping Workshops on Nov. 21 & 28 and Dec. 12. Visitors are invited to make a unique holiday gift (cork bead wreath, wine glass charms or wine cork trivet) while relaxing with friends over a glass of handcrafted Missouri wine. Or indulge in one of the winery's Christmas cookie and wine pairing events on Dec. 10-11 and 17-18. Find more information at http://www.jowlercreek.com.
ZONA ROSA
Whether you enjoy fabulous shopping, delicious dining or special holiday entertainment, Platte County's premier shopping district – Zona Rosa – is the perfect place to visit! The annual Northern Lights holiday lighting ceremony (4-8 p.m. Nov. 19) will feature the arrival of the holiday Fairy Princess, live reindeer, holiday music performances and a variety of free children's activities. Come meet the Fairy Princess at The Grove (daily Nov. 19-Dec.1) and join her for breakfast (8-10 a.m., Nov. 26). The Kansas City Museum's famous Igloo has been refrozen for 2011 and Zona Rosa is "chilled" to bring back the tradition. Santa Claus arrives on Friday, Dec. 2 just in time to kick off the holidays with a pajama party – a free and fun event for the whole family. Purchase tickets in advance to enjoy Breakfast with St. Nick (8-10 a.m., Dec. 3 & 10). Santa also will greet shoppers daily beginning Dec. 3 at the Grove with photo packages available for purchase. Don't forget to take advantage of free gift wrapping compliments of Northland Animal Welfare Society. Visit http://www.zonarosa.com for more info.
PARKVILLE CHRISTMAS ON THE RIVER: An Old Towne Holiday
If an old-fashioned holiday is what you dream of, then join the City of Parkville for its 19th annual Christmas on the River celebration from 6-9 p.m. on Friday, Dec. 2. This fabulous local tradition features live music performances including the amazing 1,000 voice children's choir, Children's Christmas Village and classic Christmas movies on Main Street. Celebrate the arrival of Santa Claus and make your own great family memories with many free activities. Then cap off the evening's celebration with spectacular fireworks. Visit http://www.parkvillemo.org for more information.
CHRISTMAS TREES AND CANDLELIGHT HOMES TOUR IN HISTORIC WESTON, MISSOURI
Come see why Hallmark chooses Weston homes and street scenes for its fabulous holiday greeting cards! This year marks the 30th anniversary of the Weston Candlelight Homes Tour (Dec. 2-4) featuring six beautifully decorated historic homes surrounded by the old time ambiance and heritage of one of Missouri's celebrated river towns. Tours begin from 5-8:30 p.m. on Friday, Dec. 2 with admission to all six homes plus a festive wine and hors d'oeuvres buffet (6 p.m.). Enjoy the tour on Saturday from Noon to 8 p.m. and Sunday from Noon to 5 p.m. with ample time to enjoy Weston's many unique shops and restaurants. Enjoy the first annual Festival of Trees, snap a photo with Father Christmas, savor famous apple dumplings, be spooked by the spirit of Mrs. Humphrey, or taste samples of 360 chocolate vodka, eggnog and spirits locally made by McCormick's Distillery. Visit http://www.westonmo.com for more information or to purchase homes tour tickets.
THANKSGIVING EVE AT PLATTE CITY, MISSOURI
Kick off the holiday season on Thanksgiving Eve – Wednesday, Nov. 23 – with fun family festivities in downtown Platte City, Missouri! This family celebration includes carriage rides, kids' crafts, visits with Santa and Mrs. Claus, live reindeer, a Main Street Treasure Map, coloring contest, live music, tours of the Ben Ferrel Museum, children's rides, activities and more. Visit http://www.plattecitymo.com for more information.
DROP 'N SHOP
Are you ready to shop? Are your kids ready to have a blast? Just in time for the holidays, the Platte County Community Center South will offer Drop 'n Shop on November 25. Bring your kids ages 2-11 years old to participate in lots of supervised games, crafts and swimming while they also enjoy a meal and snack. Kids enjoy four hours of fun while you get holiday shopping done! Three sessions are available from 6-10 a.m., 10 a.m. – 2 p.m. and 2-6 p.m. Cost is $15 per child. For more information please call (816) 505-2622.
PANCAKES WITH SANTA
Ho Ho Ho! There's nothing better than pancakes…unless you're eating them with Santa! Come and meet the jolly old elf at Platte County Community Center South's "Pancakes with Santa" event on Dec. 17 from 8:30-10 a.m. or 10:30 a.m. – noon. Bring the family to meet Santa, Mrs. Claus and the elves. Each child will receive a photo, enjoy crafts and hear a story read by Santa. Cost is $25 per family. For more information please call (816) 505-2622.
Bring your entire family and make wonderful holiday memories this year in Kansas City's "Northland" – Platte County, Missouri! For details about these and other great holiday ideas, visit the Platte County Convention and Visitors Bureau at http://www.co.platte.mo.us/county_visitor_guide/index.html.
Produced in cooperation with the Missouri Division of Tourism, http://www.VisitMO.com.
Contact:
Jennifer Goering
Executive Director
Platte County CVB
11724 NW Plaza Circle, Ste. 200
Kansas City, MO 64153
816-270-3967
Fax: 816-858-3386
Email: jgoering(at)co.platte.mo.us
Web: http://www.visitplatte.com
Platte County - Kansas City's Genuine Fun Experience!
# # #