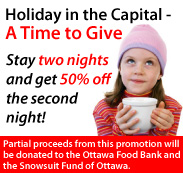 Our Ottawa hotels are proud to partner with The Ottawa Food Bank and The Snowsuit Fund of Ottawa.
Toronto, ON (PRWEB) November 22, 2011
With the festive season just around the corner what better time to plan a short escape, visit friends and family, shop or simply experience a change of pace. Holiday travellers can enjoy great hotel savings at participating Westmont Hospitality Group hotels in Ottawa this holiday season with our Holiday in the Capital promotion. Guests receive 50% off their second night plus free breakfast for two both mornings when booking a two night stay from November 1, 2011 to January 22, 2012. Most participating Ottawa hotels also offer free hotel parking.
"Travellers will be looking for ways to save on their holiday spending, says Linda Jamieson, vice president," sales and marketing, Westmont Hospitality Group. "As Canadians remain cautious in the current economy we offer guests a chance to have a winter break that will give them the best experience for the best value."
"The holiday season is also a time to give back to those who are less fortunate," says Jamieson. "Our Ottawa hotels are proud to partner with The Ottawa Food Bank and The Snowsuit Fund of Ottawa." To help make a difference in the local community, partial proceeds from all Holiday in the Capital promotional stays, will be equally donated to these worthwhile charities. Experience a warm sense of pride knowing that you are contributing in some small way to help keep underprivileged kids warm during our cold Canadian winters and to ensure that no one goes hungry.
Ottawa offers plenty of exciting things to see and do and has garnered a reputation as a world-class tourist destination, with events and activities to be enjoyed year-round, including Winterlude - North America's greatest winter celebration, the Ottawa International Hockey Festival and the spectacular Christmas Lights Across Canada program to name a few. Participating hotels include ARC The Hotel Ottawa, Les Suites Hotel Ottawa and other well-known brands such as Comfort Inn, Quality, Holiday Inn, Travelodge and Radisson. As a guest at any of these hotels, you'll be close to the heart of it all, surrounded by popular attractions, entertainment and fine shopping.
During your stay you can also enjoy valuable amenities that are available for no extra cost at most locations including high-speed Internet, local calls, daily newspapers, fitness and business centres. Most of these hotels also have a restaurant either on-site or nearby.
For a full list of participating hotels or to book the Holiday in the Capital package, visit http://www.ottawa-hotel.ca.
About Westmont Hospitality Group
Westmont is one of the largest hotel operators and managers in Canada with over 170 hotels from many respected brand names in the hospitality industry including Best Western, Comfort Inn, Delta, Fairmont, Hilton, Holiday Inn, Holiday Inn Express, Quality, Radisson and Sheraton, Staybridge Suites and Travelodge, 143 of which are owned by InnVest REIT. With hotels conveniently located in or close to most major cities, airports, conference centres, universities and tourist attractions, it is the most versatile hotel company in Canada – perfect for sport travel, group travel, leisure travel and business travel.
For more information visit: http://www.InnVestREIThotels.com.
© 2011 Westmont Hospitality Group. All rights reserved.
# # #