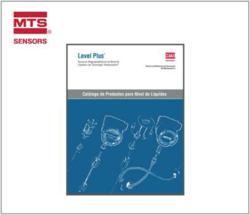 Choosing the right liquid level sensor can be complex, depending on the application and environment in which it is being used. The Spanish language catalog is another tool customers can use to make the process easier."

- Lee Aiken
Cary, NC (PRWEB) November 16, 2011
MTS Sensors Division recently announced that the product catalog for Level Plus® liquid level transmitters is now available in Spanish. These liquid level transmitters are used primarily in the oil and gas, liquid petroleum gas, pharmaceutical and food and beverages markets to provide highly accurate 3-in-1 measurement of product level, interface level and temperature.
"The Spanish product catalog will help us better serve our customers in Latin America," Lee Aiken, product marketing manager for Level Plus® transmitters, explained. "Choosing the right liquid level sensor can be complex, depending on the application and environment in which it is being used. The Spanish language catalog is another tool customers can use to make the process easier."
MTS Sensors designs, manufactures and markets a wide range of Level Plus® liquid level transmitters offering industry standard outputs including HART, 4-20 mA, Modbus, and Foundation Fieldbus. Other options include wetted parts, housings, temperature output, pipe finish, and lengths up to 22m (72.2 ft.). Level Plus transmitters require no maintenance or recalibration so one can "Set it and Forget it." The unique 3-in-1 measurement eliminates the need for 3 products and consolidates the features into one product that provides cost savings to the customer.
The new catalog is available on the company web site at http://www.mtssensors.com/fileadmin/media/pdfs/Catalogo_de_Producto_Level_Plus.pdf.
For more information, please contact: MTS Systems Corp, Sensors Division, 3001 Sheldon Drive, Cary, NC 27513. Phone: (919) 677-0100. E-mail: info(at)mtssensors(dot)com or visit their web site at http://www.mtssensors.com.
MTS Sensors, a division of MTS Systems Corp., is the global leader in the development and production of magnetostrictive linear-position and liquid-level sensors. The Sensors Division is continually developing new ways to apply magnetostrictive sensing technology to solve critical applications in a variety of markets around the world. With facilities in the U.S., Germany, Japan and China, MTS Sensors Division is an ISO 9001-2008 certified supplier committed to providing worldwide innovative sensing solutions.
###