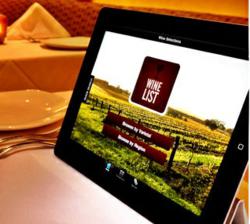 Instead of bringing our standard wine list, encased in a formal, leather-bound book, to the dining table, we now present our patrons with an iPad which contains in-depth information about the wine's origin, composition and flavor
Shelton, Connecticut (PRWEB) November 16, 2011
"Life is made up of moments, sip them slowly-" -Aloi Luigi Giovanni
Committed to providing seasonally fresh and flavorful Italian cuisine honed in the Piemonte region where she was born, Il Palio Restaurants Executive Chef Margherita Aloi recently enhanced the Shelton restaurant's dining experience by offering its extensive wine list on the iPad.
Il Palio's Director of Operations, and Margherita's husband, Cliff Pereira stated, "Instead of bringing our standard wine list, encased in a formal, leather-bound book, to the dining table, we now present our patrons with an iPad which contains in-depth information about the wine's origin, composition and flavor. We encourage people to have fun as they browse through the wine app filled with vivid imagery and clear descriptions about every wine in Il Palio's extensive collection. It's like having your own personal sommelier by your side."
Utilizing 'Restaurant Wine List for iPad', restaurant patrons are able to pair Il Palio's wines with Aloi's creative and tasty dishes, which feature her signature homemade pastas, seasonal produce hand-picked from Jones Family Farms in Shelton and the freshest spices and ingredients.
Pereira developed the app with his brother, restaurateur Bob Pereira, COO of New York City's Metronome Hospitality Group, and Sandra Frank, also of Metronome.
Wine has always been an integral part of Aloi's culinary background. Growing up with a father who worked as a farmer and wine maker in the small town of Tucci, Aloi intuitively understands the importance of pairing the right fine wine with delicious homemade Italian cuisine. "My father Aloi Luigi Giovanni used to always say, 'Life is made up of moments, sip them slowly,' she recalled. "In the kitchen I am constantly on the lookout for new ways to put together foods that are bursting with flavor. I love using Restaurant Wine List for iPad because we customize each wine profile in the app to describe which meal will be its perfect complement. In doing so we enrich the overall dining experience of everyone we welcome at Il Palio."
Pereira agreed. "The Wine List app is interactive and fun. So far, everyone loves it. The response has been phenomenal. Since introducing the iPad to our patrons last month, not only have Il Palio's wine sales increased but people are having a good time exploring our interactive wine list on the iPad."
With a smile, though, Pereira admitted that he has encountered a few patrons who are hesitant about using the latest technology to access information about Il Palio's wine list.
"They felt that they weren't technically savvy," Pereira explained. "However, once I demonstrated how simple it is to access information on the App, they came on board and ended up having a great time picking out their wine," Pereira said. "In fact, some people like to play around with the app and explore the wine list further, even after they place their order. This is exactly the type of dining experience that Margherita and I want to provide at Il Palio—a relaxing and fun environment where families, friends and business associates can come and enjoy high-quality, delicious Italian cooking and the finest wines."
Before partnering with Bob Scinto at Il Palio, the couple helmed Aloi Restaurant in New Canaan, where they reside with their daughter, Ariana. For three consecutive years, this popular eatery was named "One of the top three restaurants in Fairfield County", and in 2004, Aloi was recognized for having the "The Best Wine List" in that region.
In addition to the obvious appeal the app has for restaurant owners, wine enthusiasts are also invited to purchase Restaurant Wine List for iPad for their personal wine collection. Since its debut, the app, which allows up to 1,000 wines, has been downloaded by restaurants and wine connoisseurs around the world. With a simple download through http://winelistpro.com, users can customize the theme, upload their restaurant's logo, update their wine inventory and edit their list anytime they like.
Il Palio Restaurant, located at Five Corporate Drive in Shelton, is open for lunch Monday to Friday 11:45 pm to 2:15 pm and dinner on Monday to Saturday from 5:35 pm to 9:15 pm.
For more information about Il Palio, go to http://ilpalioct.com or call 203-944-0770.
For more information about Restaurant Wine List, or to download, go to http://winelistpro.com.
###